National Educators strengthen Private Sector English Education with International Benchmarks
View(s):

The English education sector in Sri Lanka is being enriched by a platform set up by a group of Sri Lankans with strong professional and academic credentials. The team has got together to empower children, youth and adults with communication skills in English, through programmes carrying globally recognised benchmarks.

This is a timely initiative mooted by national university academics, senior teachers and corporate trainers who have set up the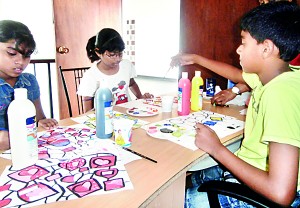 Rainbow Institute of Communication and English (www.rainbow.lk), affiliated to City and Guilds, International, UK.
The institute is headed by Manique Mendis, a leading Communication specialist, with more than twenty five years of senior management experience in local and international organizations and Sandra Fernando, a literary personality with long experience in teaching in International schools in Sri Lanka and overseas, providing leadership for quality assurance benchmarking and academic development. The well known academic Dr Mahim Mendis, a British Chevening Scholar with postgraduate research degrees from UK, USA and Singapore is the chief educational adviser of the institute.
"The Rainbow Institute of Communication and English is filling a vacuum for high quality teaching at an affordable price in a context where private sector education has become a highly commercialised commodity", stated Dr Mahim Mendis. He elaborated that a large number Sri Lankans are greatly constrained in maximizing their potential both locally and internationally, due to lack of skills and confidence in English.
The aim of the institute is to provide top quality English and communication training with international benchmarks from City and Guilds, UK, at an affordable rate to Sri Lankans.
The Rainbow Institute is offering English courses to a wide range of groups such as young learners, college students, English teachers, school leavers, house wives, job seekers, managers, executives, shop and office workers, clergy and politicians.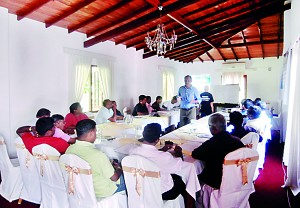 The Young Learners courses, for children between the ages of six- 13 years of age, are offered in two categories. The first focuses on spoken English, whilst the second focuses on Reading, writing and listening skills.
The Diploma, comes in six levels. It is a combination of two City and Guilds courses: the spoken course and general course focusing on reading, writing and listening skills.
The Access Certificate of English Language Teaching is a six month course which includes a foundation in the theory of English Language Teaching, and teaching practice in real classrooms. It offers a prestigious City and Guilds qualification to current teachers of English, those who want to become English teachers and teachers of other subjects who want to shift to English.
The Business English Courses are offered at three levels, for clerical, executive and managerial level staff. These courses are offered at the institute's premises at No 44, 1/1 A, Haig Road, Bambalapitiya and also conducted for groups of employees in their organisational premises.
The course for politicians is an innovative programme designed to equip Sri Lankan politicians to win public confidence by bringing out their inherent strengths with a strong intellectual and moral foundation, whilst improving their skills in English.
Rainbow is flagging off it's programmes, with an exciting vacation workshop for personality development of children between the ages of 6 – 12 years. This event is scheduled for four half days, from 26- 29 August and is tailored to provide learning through fun and games.
The workshop features a range of fun- filled activities revolving around art and craft, speech and drama, training on grooming and etiquette, music, singing and educational games. Highlights are making of personalised photo – frames, tie- dying of T shirts and decorating cup cakes . The grand finale is a concert open to parents.
The Institute, is providing free of charge, a range of extra- curricular activities such as a public speaking club, reference library, career guidance clinics, guest lectures, debates, competitions and mock exams. These activities are geared to develop the personalities of students and improve their communication skills in an English learning environment.
Rainbow Institute of Communication and English is a project of the consultancy and training company, Rainbow Resources Lanka (Pvt) Ltd.
Follow @timesonlinelk
comments powered by

Disqus