International Medical Education Fair
View(s):

Explore University Education Options in Europe, UK, USA, Australia, Canada, Newzealand, and Malaysia Sunday 18th August (10.00am) – Sangam Hall – Wellawatta

If your passionate about Science and is on the verge of following a career in Medicine and Health Care, this could be the moment your waiting for. Deciding what to do where to apply is an extremely important and challenging part when you choosing your career path. It is also time-consuming. You have to decide which career path and which University will be the best fit for you.

The lack of professional advice about university education options and careers has resulted in an urgent need among Sri Lankan students and parents. The mission of "International Medical Education Fair 2013" is to enhance the knowledge of the medical education, leading medical universities and career avenues available both locally and internationally.

According to the "AMA's Health Care Careers Directory" lists there are more than 80 careers in health care and 8,400 accredited educational programmes in those health care fields, listed in the following categories:

-Medicine -Nursing
-Pharmacy -Physician assisting
-Podiatry -Psychology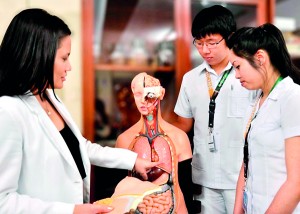 -Therapy and rehabilitation
-Veterinary medicine
-Allied health
-Complementary and alternative
medicine and therapies
-Communication sciences
-Counseling 4Dietetics
-Dentistry and related fields
-Expressive/creative arts therapies
-Health information and communication
-Laboratory science
-Medical imaging
-Vision-related professions
Over the years the demand for high quality Medical education has increased all over the world. Globally the demand for Medical Doctors has increased more than 22 percent during the last 10 years according to WHO (World Health Organization). In a developing country like Sri Lanka this can be a really good opportunity today than ever before.
"International Medical Education Fair 2013" is a one-stop destination
for students and parents to explore unbiased information about universities, degree programs, and education and career opportunities in the leading Medical education destinations in the world. Students also have the option of finding out about various scholarships and payment options in different universities. Free advice on student visa will also be provided.
International Medical Education Fair 2013– Sangam Hall – Wellawatta
Organizers of "International Medical Education Fair 2013" would like to invite O.Level and A.Level students to reserve their free registration for this fair by calling 0777 66 22 33
Follow @timesonlinelk
comments powered by

Disqus