ICFAI University convocation
View(s):

The 05th Convocation of the Sri Lankan branch of ICFAI University, India held at the BMICH on last Saturday, 03rd August 2013. Seventy eight (78) Master of Business Administration Degree ( MBA) completed students and Twenty one (21) Bachelor of Business Management degree ( BBA) completed students and Eighteen (18) students who completed Bachelor of Science in Information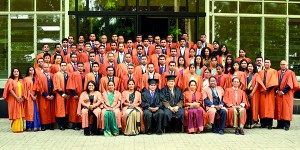 Technology ( BSc IT) received their certificates at the convocation from the Vice Chancellor of ICFAI University, India who participated as the chief Guest. Dr Venketswarlu, the Coordinator of ICFAI University India, the members of the Governing Council and Academic Council member participated and there were many distinguished invitees attended the convocation. The ICFAI University, India degrees are offered by ICFAI Education Lanka, the International Branch of the university in
Sri Lanka.
ICFAI Education Lanka (IEL) which is Board of Investment Approved ( BOI ) Company was established as the Sri Lankan branch of ICFAI University in India in the year 2004 and could be considered as the first foreign university started operations in Sri Lanka. At that time no other foreign University branch was operating in Sri Lanka and IEL is in existence in Sri Lanka for the last Eight years catering to a large number of Sri Lankan and Indian students.
 Views of the Country Head of IEL
Mrs. Ranjanie Goonetilleke, Country Head of ICFAI Education Lanka and Dean Academics in considering her exposure in the education sector for the last 10 years, said that ICFAI University MBA programme is a high quality Degree programme which prepares the students with the skills, knowledge and strategic perspectives essential to the Leadership of anywhere in the world. Their MBA programmes which have been designed maintaining high Academic Standards provide for the students both a portfolio of strong functional skills and the ability to apply, adapt and integrate those skills in different management settings.
Emphasizing on the MBA Degree programme Mrs. Goonetilleke said many of their MBA Degree completed students in the past have got promotions in their jobs or have changed the jobs for better prospects and career advancements. Some of the students have migrated to developed countries such as UK, Canada and Australia after completing the MBA Degree. Her opinion is that the MBA programme will be the person's key competitive advantage as he or she enters the fiercely competitive business environment.  It will help him/her to move ahead of the pack and allow him/her accelerated access to senior and corporate management positions.
In addition to the in-campus MBA degree programme ICFAI Distance Learning MBA Degree is also offered by IEL. DLP – MBA degree is consisting of Three Stages and it is planned to arrange subject revision classes according to the requirements of the registered students. After completing each Stage the students receive Certificates.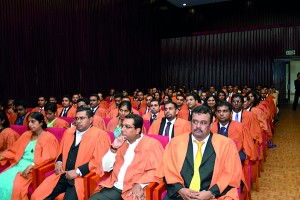 Unlike some other Twelve months MBA Degrees currently offered in Sri Lanka teaching only Seven to Ten subjects, ICFAI MBA degree is designed to teach twenty subjects covering all the required modules for an MBA programme in the major disciplines such as Management/ Finance/ Economics/Marketing/ Information technology/ Statistics. For the students who are planning to follow further studies such as a Doctoral Programme ( Phd and DBA) the Research Option is also available. Research students get the opportunity to apply the Theoretical knowledge gained by following the modules of the Degree programme when carrying out the Research Project.
ICFAI University, India is planning to offer their Phd programme in Management at IEL in the near future.
ICFAI MBA will facilitate the students not to just have an MBA but, to be real MBAs and perform as MBAs. The views expressed by the ICFAI MBA Degree completed students testify the Quality and Standard of the ICFAI MBA degree program.
Follow @timesonlinelk
comments powered by

Disqus