The Blue Ocean Group honoured with "Approved Employer Platinum Status "  by ACCA
View(s):

The Association of Chartered Certified Accountants ( ACCA ) Sri Lanka, recently awarded the "Approved Employer Platinum Status" , the highest level of award given to employers, to Blue Ocean Group.

Blue Ocean Group is a dynamic and reputable business conglomerate with diversified business portfolios involved in Education, Construction & Engineering, Real Estate, Corporate Consultancy, Trading, Electrical and Engineering Consultancy. The Approved Employer Platinum Status recognizes and certifies an organization's employee training procedures and acknowledges their high standards of staff training and development. Being awarded the Approved Employer Platinum Status is a great achievement for Blue Ocean that reflects it's dedication and commitment in meeting ACCA's statements of best practice in all six areas , that consist of study support work experience requirements, supervision, appraisal and workplace development, training records and continuing development.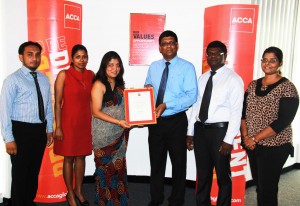 Present at the occasion held at the ACCA Sri Lanka office , were Group Chairman Mr. Thumilan of Blue Ocean Group, Head of ACCA Sri Lanka Ms. Nilusha Ranasinghe  and Ms.Ruchera Jayawardena , Business Development Manager – Employers , of ACCA Sri Lanka, along with representatives of both organizations .
Ms.Ranasinghe stated that ACCA seeks to work closely with approved employers for the progression of ACCA trainees in particular and the accountancy profession at large. She further emphasized that ACCA and Blue Ocean Group will work in conjunction to add value to inculcate the right skill set of innovation and expertise in its employees. She also pointed out that the added benefit for it's trainees will be that they are automatically eligible for an exemption from the requirement to complete a  (TDM) as part of ACCA's practical experience requirements .
ACCA Sri Lanka will also enable Blue Ocean Group to deliver the highest standards of professionalism and ethics and provide a complete solution for recruitment, retention and development of accounting and finance professionals.
Follow @timesonlinelk
comments powered by

Disqus