Succeed create discover explorer engage pioneer work achieve with Plymouth university
View(s):

Meet Plymouth Student Representatives from the UK at NSBM

Five young undergraduates from Plymouth University – UK have arrived to Sri Lanka to facilitate students and their parents to decide on their Higher Education options with Plymouth University and NSBM. Anyone who seeks better options in achieving Higher Education goals with a UK Degree, may visit the State-of-the-art NSBM City campus located near Anula Vidyalaya – Nugegoda during the months of August and September. Find out the opportunities & benefits studying with Plymouth University Degree through NSBM, Summer School experience, student exchange programmes and much more.

About Plymouth University

Located on the South West coast of England, Plymouth University is a multi-award winning leader in knowledge transfer and is dedicated to transforming lives through education, world-class research and innovation. Plymouth is a university built on a rich heritage dating back to 1862 and while it has grown in terms of size, reputation and impact, it remains true to its values.

- Plymouth is ranked 53rd in the Times Higher Education 100 universities under 50 years old 2013
-Last year it was awarded the Queen's Anniversary Prize for Higher and Further Education in recognition of its world class marine and maritime research, teaching and training.

-Plymouth is the first university in the world to be awarded the 'Social Enterprise Mark' in recognition of its long-standing history of support for the sector which it received last year

-Its business incubation centre "Formation Zone" has been independently ranked among the best business incubation services in the world.

NSBM With Plymouth University

In 2012 the partnership between National School of Business Management (NSBM) the top ranked higher education provider in Sri Lanka and Plymouth University was launched to offer Sri Lankan students an affordable and globally exposing opportunity to study and achieve a degree from a University from the UK from within their home country. NSBM offer a number of Degree programmes which are quality assured and certified by Plymouth University and mirror the English curriculum.

Plymouth Degrees offered through NSBM

Computing:

-BSc (Hons) Computer Networks
-BSc (Hons) Computer Security
-BSc (Hons) Software Engineering
-BSc (Hons) Accounting and Finance

Management:

-BSc (Hons) International Management and Business
-BSc (Hons) Operations and Logistics Management
-BSc (Hons) Marketing Management
-BSc (Hons) Events, Tourism and Hospitality Management

Why should your child choose NSBM With Plymouth University?

Studying a Plymouth University course with NSBM will allow your child to gain an internationally recognised degree, certified by a university in the United Kingdom while providing an affordable alternative to traditional overseas studying. All Plymouth certified degrees are QAA assured (Quality Assurance Agency) and moderated by external examiners in the UK to ensure that the quality of teaching is to the highest standard and following the curriculum provided by Plymouth. Studying at NSBM and completing one of the Plymouth University programs will reward you with an internationally reputed degree and an enriching student experience.
-Fulltime degree programmes offered with constant quality reviews and back up from Plymouth University.

-Lectures are conducted by highly professional, well experience and qualified lecture panel including lecturers from Plymouth University UK.

-Comparing to many other foreign degrees offered in Sri Lanka, NSBM offers many options of payment methods offering affordable cost for anyone who wants to do a Degree.

-Student exchange programmes and summer school opportunities to discover Plymouth for interested students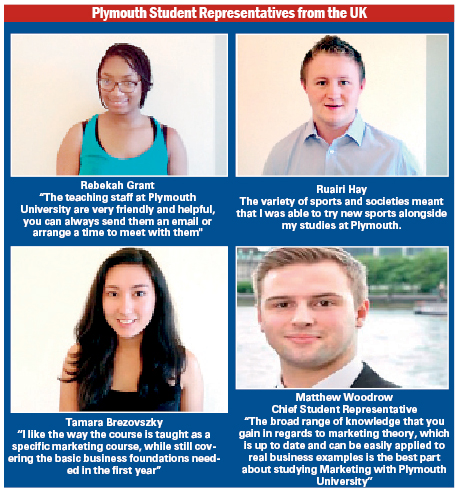 -Whether you have completed A/L's & O/L's in Local or London syllabus or even with pending results, an opportunity to commence your Higher Education immediately.
Summer School Opportunity
If you are studying on one of Plymouth's courses at NSBM you are eligible to visit UK on the special two week summer schools and experience life as an English university student at an affordable cost. During this period you will stay within Plymouth's halls of residence which are located by both the university and the city centre. There will also be a team of student ambassadors who all study at Plymouth University and will be there to assist you throughout your stay.
Each week in the Summer School is also filled with fun, interesting and exciting social activities. These trips, visits and group activities are designed to help you settle in, meet new people and make the most your free time in Plymouth. These include:
-Welcome BBQ to meet staff, students and other visitors
-A full weekend trip to London
-A fun trip to Paignton Zoo
-Visit to the world's largest indoor rainforest at the Eden Project
-Visit to the historic Minack Theatre
NSBM the Degree School of NIBM
NSBM is the degree awarding school of National Institute of Business Management (NIBM) functioning under the Ministry of Youth Affairs & Skills Development. Inspired by the vision of transforming Sri Lanka to be the 'Knowledge Hub' of Asia as envisaged in 'Mahinda Chinthana', NSBM is currently in the process of constructing the First ever Green University Town of the region in 26 acre land in Pitipana Homagama. This modern university with all the facilities will provide a grandeur opportunity as it will accommodate 25,000 undergraduates in state of the art Higher Education facilities such as modern multimedia lecture halls, computer laboratories, Library, open theaters, business units to practice businesses and recreation areas such as play grounds swimming pools etc. NSBM City campus is located to 309, High-Level Road, Colombo 5 next to Anula Vidyalaya Nugegoda and currently with over 4,000 students are studying wide ranges of Degrees offered in Computing, Multimedia and Management.
What you can get when you meet Plymouth team at NSBM
As current Plymouth University students, the team are able to provide a real insight into what studying a Plymouth curriculum is like and the prospects if you study through NSBM, they will be able to assist on the course content as well as other opportunities that can come from enrolling to the course – for example being eligible to go to one of Plymouth's summer school programs.
This opportunity is not just for students to come and talk to the team, if you are a parent and would like to find out more regarding the Plymouth courses, studying in the UK or any other queries we are more than happy to assist you and offer our guidance.
For more information regarding Plymouth University programmes at NSBM or if you have any queries visit NSBM on High Level road, Colombo 05 and the Plymouth University students would be delighted to meet you…
For early appointment contact NSBM Programme office on (011) 544 5000 (Ms. Irosha or Ms. Indunil)
Follow @timesonlinelk
comments powered by

Disqus