CINEC to offer scholarships for the best students
View(s):

CINEC, one of the largest private institutions in the field of providing quality higher education in the Island, has decided to offer more than 10 scholarships for students of the September/October intakes in the fields of Management and Engineering Studies. The

Scholarships will be awarded to the best students of each faculty who will be selected by way of an exam and will be applicable for the following programs.
The Faculty of Engineering & Technology of CINEC conduct programmes offered by the University of Wolverhampton UK and Australian Maritime College-Australia.

University of Wolverhampton-UK

-Bachelor of Engineering (Hons) Electronics and Communications Engineering
-Bachelor of Engineering (Hons) Mechatronics
-Bachelor of Engineering (Hons) Mechanical Engineering
-Bachelor of Engineering (Hons) Automotive Systems Engineering
-Bachelor of Engineering (Hons) Civil Engineering
-Bachelor of Engineering (Hons) Engineering Design Management
-Bachelor of Science (Hons) Civil and Environmental Engineering
-Australian Maritime College-Australia
-BEng (Hons) Marine and Offshore Systems
-BEng (Hons) Ocean Engineering.
-BEng (Hons) Naval Architecture.

The Faculty of Management of CINEC conducts programs offered by the Dalian Maritime University China.

BSc. International Transportation Management and Logistics.

The above mentioned programmes carry internship programs provided by leading international and local companies and pave the way for excellent job opportunities. The graduates are usually absorbed by the companies where the internship training is provided and also has a high demand in the overseas job market. Therefore the above programmes are in heavy demand.

Colombo International Nautical and Engineering College popularly known as CINEC Campus is one of Sri Lanka's largest Non Governmental institutes of higher education. It is also the largest Maritime Educational Training Facility approved by the Directorate of Merchant shipping in Sri Lanka. Established in 1990, CINEC CAMPUS is located in the quiet picturesque suburbs of Malabe with branches in Colombo, Jaffna and Trincomalee. Over the past two decades, CINEC has established itself as the most prestigious option for those who desire a career in the fields of Maritime, Engineering, Technology, Logistics, Management and IT, by Providing world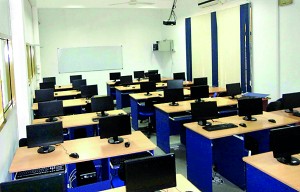 class excellence in education and training .CINEC Campus caters to over 15,000 students annually, who follow a range of over 175 Educational and training programs.
CINEC conducts courses, from Certificate level to Bachelor's, Master's and Doctoral degrees, affiliated with Foreign Universities in Australia, UK, USA and China giving the opportunity for Sri Lankan students to excel in higher education.
CINEC is certified to four internationally recognized quality management systems, namely ISO 9001:2008 Quality management systems standard, ISO 14001:2004 Environmental management systems standard, OHSAS 18001:2007 Occupational health and safety management systems standard, DNV Certification for Maritime Academies No. 3.401 . CINEC is the only educational organization in Sri Lanka to be awarded with Sri Lanka National quality award 3 times running, 1999, 2004 and 2009. In 2010 CINEC campus was awarded the International Asia Pacific quality award and in 2012 Global performance excellence award for a world class educational organization.
CINEC has one of the most experienced, Professional and qualified lecture panels, comprising of lecturers who have long years of local and foreign experience.
CINEC is Sri Lanka's leading Maritime education institution and one of the leading Maritime training Institutions in whole of South-East Asia.

There are five faculties at CINEC. The Faculty of Maritime Sciences offers courses in Navigation, Maritime Safety & Survival and Marine Communication.
The Faculty of Marine Engineering offer courses in Marine Engineering, Marine Electrical & Electronics and Industrial Engineering.
The Faculty of Engineering and Technology offer many academic programs specialized in the fields of General Engineering, Management, Technology and Sports & leisure
The Faculty of Management offers courses in International Transportation and Logistics, Freight Forwarding, International Trade, Warehouse Management and Supply Chain Management.
CINEC IT consists of programs in the fields of Information Technology, Information Systems, Networking, Programming and Graphic designing.
In addition CINEC also provides vocational training programmes such as welding technology, Aluminum fabricating and Electrical technician programmes assisting students who are longing to enter the technical and industrial markets.
The Campus is fully supported by a series of laboratories comprising of Electrical, Electronic Control systems, Architectural Design studio, Telecommunications Laboratory, Control Systems Laboratory, Electronics Systems Laboratory, Automotive Systems Laboratory, Civil Engineering Laboratory and Engineering Design Center.
A full mission Bridge Simulator with 270 degrees of visualization coupled to a Full mission Engine Simulator provides for the training of competent seafarers in a totally realistic environment found only in institutions of a very high caliber.
A fully fledged network of workshops provides for hands on practical exposure to trainees at all levels and comprises of a Welding Shop, Machine Shop and a Bench Fitting and fabrication shop.
CINEC conducts many vocational training courses targeting employment as well as train industrial staff on safety and fire fighting aspects etc where the practices are conducted under simulated environments which are close to reality.
CINEC has not forgotten leisure and has conducts courses on diving for leisure in addition to the professional diving courses and underwater welding technology courses etc.
Modern equipment adorns classrooms with comfortable seating. An auditorium, Residential facilities, large open cafeteria are a few of the available facilities for the use of students at CINEC.
CINEC has some of the best sports and recreational facilities for students including a gymnasium and swimming pool, which provides the opportunity to keep them both physically and spiritually active enabling them to excel academically. CINEC's students are also exposed to participation at Yoga sessions, music and other social activities within the Campus which gives them the right balance to cope with rigors associated with employment which has created a heavy demand for CINEC students across the corporate sector both locally as well as internationally.
The registrations are on for the said programmes and you are invited to contact us on t/p numbers 011 4486400 , 011 2413 500, 077 356 55133 . web: www.cinec.edu-FB: www.facebook.com/cinec.edu. CINEC – World Class Excellence in Education and Training.
Follow @timesonlinelk
comments powered by

Disqus