Vials of contraceptives packed in potato containers go under the microscope
View(s):

By Nadia Fazlulhaq

The Cosmetic Devices and Drug Regulatory Authority has commenced laboratory tests on samples of Depo-Provera, a contraceptive vaccine for women, which were found hidden inside containers of imported potato. Last week, Customs officials seized 30,000 vials of this drug in a container of imported potatoes. The suspect, a Pakistani national who had imported three-container loads of potatoes was arrested on Friday by the Customs Revenue Task Force.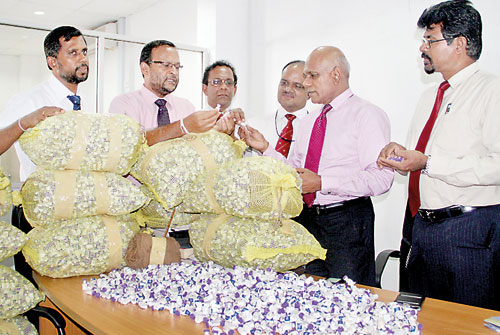 "The smuggled samples along with samples from the legal importer and the Family Health Bureau have been sent for tests. By next week, we will know whether these are genuine products or fake ones," cosmetics authority head Dr. Hemantha Beneragama said.
He said the ideal temperature for these drugs was under 20 degrees and the smuggled goods would have lost its efficacy as the temperature would have been about 80 degrees as the vials were in potato sacks for many days.
"If some of these medicines had already been released to the market it could cause unwanted pregnancies," he said. Depo-Provera is the brand name of the Generic Depot Medroxy Progesterone Acetate, a birth control method for women. Each shot is said to prevent pregnancy up to three months.
A Depo-Provera 150 ml vial is sold at Rs.225 here and Sri Lanka has one legal importer that is registered with the Cosmetic Devices Authority.  The Health Ministry's Family Planning Programme chief Dr. Chitramalie de Silva said annually about 500,000 women here used this particular contraceptive method.
"This method of birth control has been in use for more than two decades and was administered by the area Medical Officer of Health or a registered medical officer. The health condition of the woman is looked into before the vaccine is administered," Dr. de Silva said.
She also added that although initially the drug was administered by Medical Officers of Health in the areas, midwives and registered medical officers at state hospitals, now it is also given by some government medical officers in private clinics and hospitals.
"It is risky if these are given at illegal clinics by unqualified persons. Because prior to administering the drug the woman's medical conditions have to be looked into," she emphasised. Dr. de Silva said this contraceptive has to be prescribed with special care and not prescribed to women who have a history of diabetes, heart, liver disease, osteoporosis, cancers in the reproductive tract, migraine, depression or severe headaches.
The Family Planning Association too provides this injection at its medical clinics.  Sri Lanka Family Planning Association Medical Director Dr. Sumitra Tissera said the Depo-Provera used in Sri Lanka is imported from Belgium. "It is important to check whether the smuggled drugs are of inferior quality," she said.
Meanwhile Customs Revenue Task Force Director Mali Piyasena told the Sunday Times, that the Pakistani suspect was apprehended by Customs officials at the Fort Railway Station after setting up a decoy. "We are in the process of questioning the suspect. An attempt to smuggle 30,000 vials is not usually solely an individual effort and we are trying to track down if there is a larger network in operation including medical practitioners," he said.
Follow @timesonlinelk
comments powered by

Disqus