Nobody's kids sans vehicles hitch rides with adult prisoners
View(s):

Cash-strapped and woefully inadequate Prisons Dept plays foster parent to unfortunate minors with no recourse to what is rightfully due to them.

Namini Wijedasa reports

The cash-strapped Prisons Dept has appealed for donations of passenger coaches to transport children, some as young as a few weeks old, between certified homes and the country's various courthouses. The severe vehicle shortage has forced children to crowd in with adult convicts and remand prisoners in the Department's blue buses. Sometimes, prison officials even escort them to and fro on public transport.

Though all minors fall under the purview of the Department of Childcare and Probation, it is the Prisons Dept that shepherds them between the certified schools and homes they live in and the courthouses at which their cases are being heard.  The prison buses have restrictive, meshed windows. Worse, the children are crammed in with detainees who often converse in slang—and on subjects—unsuitable for youngsters, said Commissioner General of Prisons, Chandraratne Pallegama.
"It is not good for their emotional or psychological status," he explained. "It also affects them negatively, to be escorted in such a manner by uniformed prison guards." In 2010, the Supreme Court ruled that the Prisons Department should develop a child-friendly transport system. But there is no money for it.
And while Government has decreed that all vehicle purchases must be carried out through the Treasury, bureaucracy and red tape have caused the wheels to turn slowly. So, in a newspaper advertisement last month, the Prisons Dept urged donors and philanthropists to come forward with passenger coaches for children.
The Colombo Remand Prison alone handles up to 6,000 children a year, said Assistant Superintendent Chandana Ekanayake. This includes abandoned babies, sexually and physically abused children, and juvenile delinquents from the Western and Southern Provinces.
"The numbers have increased in recent years, because there are more offences committed against children," said Female Overseer Swarna Perera who accompanies the minors. Other remand prisons deal with smaller numbers of children—such as 450 a year in Kandy. Out of 20 remand prisons, only the one in Colombo has two dedicated vehicles for children. One is a 26-seater donated by UNICEF, while the other is an 8-seater van assigned to it by the Ministry of Justice.
There is also no money in the Prisons Dept budget to buy milk bottles or milk food, flannels, teats, diapers or other essential items that children need during the hours they spend in transit between the courthouses and their designated homes or certified schools. The Colombo Remand Prison's temporary detention centre for children is situated at Welikada. It is a small, two-story building. Girls are taken upstairs, boys downstairs. Older children are locked up. Younger children are not.
When babies arrive, prison officials cart them around because there are no cribs. There is no money to buy soap, spare clothes or food that younger children might like to eat. Should a child want to nap, there are no mattresses or pillows—just the floor. And while there are toilets, there are no bathing facilities.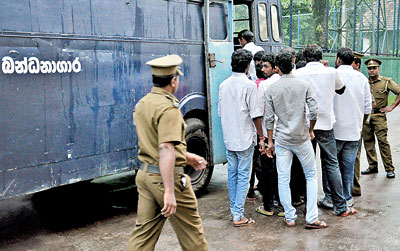 Crucially, there are also no wheelchairs. Prison officials routinely carry disabled children into and out of vehicles, and to and from various venues.  A 7-year-old girl sat on a bench eating rice and curry off a plate.
"It is the same food that we serve adult prisoners, because our rules don't allow us to prepare special meals for children," explained Mr. Ekanayake. "Not even for the smallest ones."
Prison officials sometimes spend their personal funds to buy yoghurt or toffees or biscuits for the younger kids. "They love yoghurt," said Mrs. Perera. "This week we had a little girl, a victim of abuse, who said her seventh birthday was on May 5, but didn't have any money to celebrate it. She was delighted when we got her yoghurt."
The girl on the bench was a differently-abled orphan. She had lived with a drunken grandmother who ill-treated her. She was rejected by two homes and was now waiting for a vehicle to be taken to a third home in Negombo.  "Children are turned away by homes or certified schools very often," said Mr. Pallegama.
"The courts order them to be taken to those locations. But when our officials go there, the management says they have no space. So we have to bring them back. Transport becomes an issue again."
The number of vehicles allocated to each prison for the movement of adults is also insufficient. At present, Welikada has 24 buses, all of which are usually packed beyond capacity. "But we hear that money has been passed for 14 more," the Commissioner General said. "We have to wait and see.
Follow @timesonlinelk
comments powered by

Disqus