Most Lankans in Saudi would escape effect of new labour law
View(s):

By Wasantha Ramanayake

More than half the 450,000 Sri Lankans working in Saudi Arabia would be untouched by a new law that conserves jobs for Saudi nationals but Lankans working illegally in that country would be caught by the new regulation, the Foreign Employment Bureau says.
More than 50 per cent of the workers are domestic house keepers, a category which would not come under the Nitaqat law, the bureau's Deputy General Manager Mangala Randeniya said.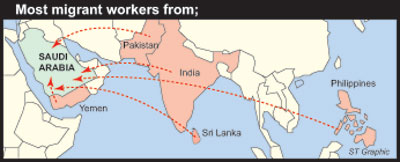 He expressed concern that around 5,500 illegal Sri Lankan workers in Saudi Arabia could face deportation as a consequence of the new law, which states that a minimum of one in 10 jobs in certain categories had to be held by Saudi citizens.  "It is their internal policy: we could not do any thing about it," he pointed out.
He said that it was not yet clear how the Nitaqat law would affect the various categories of the labour market – that is, for unskilled, semi-skilled, skilled, clerical and related, and middle-level and professional workers.
Sri Lankans are employed in various sectors and industries such as construction, manufacturing and in shops.Mr Randeniya expressed doubt as to whether Saudi citizens were willing to take on work done by the unskilled and semi-skilled workers such as garment factory workers and drivers.
He said around 5,500 Sri Lankans who lack proper documents to work in Saudi Arabia would be sent back home. These were people who had left jobs out of dissatisfaction with their original employers – who had signed their work contracts – and had found work elsewhere, without proper documentation.
The Secretary of the Association of Licensed Foreign Employment Agencies (ALFEA), Mr W.M. Aponso, who said he was not aware of the new law, added that his association did not have proper data on Sri Lankans working in Saudi Arabia since the association did not know how many of the expatriates who had gone to Saudi Arabia had returned home.
It was only recently that ALFEA, with the help of the Immigration Department, had begun to keep track of returning expatriate workers, he said.
What is "Nitaqat"
With the rising number of unemployment in the kingdom, the Saudi government has implemented a new "Saudisation" programme called Nitaqat.  Reports quoting Saudi labour ministry said that around 6.5 million foreigners are employed in the private companies compared to 700,000 Saudi citizens. In 2012 there were 340,000 firms in the kingdom that did not employ any Saudi national.
The programme makes mandatory for the private sector companies which have more then ten employees to employ one Saudi national for every ten foreign migrant workers they employ.
The aim of the programme is to eliminate unemployment and provide job opportunities to Saudi citizens.  The programme replaces the earlier "Saudisation" scheme implemented in 1994 to provide 30% of jobs in the private sectr to Saudi nationals. However, it failed to achieve its targets.
The Nitaqat programme divides the labour market into 41 commercial activities. The companies are grouped into five categories – giant, large, medium, small and very small depending on the number of employees. Nitaqat also classifies establishments into four ranges; premium, green, yellow and red, based on the ratio of the Saudi citizens to foreigners in those companies.
Premium and green companies are those which have employed the highest ratio of Saudi citizens and they will be given incentives.
Companies which fall under the red category will face restrictions. This means visas for their foreign employees will not be extended. The yellow category, which is in the medium range would be given time to improve their position and employ more Saudis.
The companies which have less than ten employees will not come under the Nitaqat programme.
Follow @timesonlinelk
comments powered by

Disqus