Leprosy on the increase warns top health official
View(s):

By Kumudini Hettiarachchi

The number of people affected by leprosy is on the rise, with Colombo District having the highest number of cases, a top health official said this week.

Colombo District reported 446 cases in 2011, while the Western Province had 45% of patients amounting to 1,012, the same year, pointed out Anti-Leprosy Campaign Director Dr. Nilanthi Fernando, urging anyone with patches on the skin to seek medical help immediately.

A disturbing 2,000 new patients have been reported every year for the last 10 years, the Sunday Times learns, with 2,211 new cases being reported last year (2012). The number of children affected by leprosy last year was around 168.

The acceptable rate of leprosy is 10 per 100,000 which is deemed "not a problem", said Dr. Fernando, adding that Sri Lanka's data, however, are 10.8 per 100,000. Fifty-six percent of new patients are diagnosed late, more than six months after the appearance of symptoms indicating lack of awareness among the public.

Explaining that leprosy, unlike other diseases, does not cause pain or discomfort and as such people tend to ignore the skin-patches which are the first symptoms, she said that they seek medical treatment only when serious deformities such as claw-hands occur.
There is no need to panic or be fearful, as leprosy can easily be diagnosed, treated and cured, Dr. Fernando stressed, explaining that many hospitals across the country have Consultant Dermatologists who are able to identify the disease and treat it effectively with multi-drug therapy which is a combination of antibiotics available in all Government skin clinics free of charge.

When detected early, treated promptly and managed correctly, the prognosis is good. The problem, however, seems to lie in the fact that because the disease has a long incubation period of five to eight years, people tend to ignore the early signs, it is learnt. The incubation period is the time between the exposure to the infection and the appearance of the first signs or symptoms.

Leprosy is often within households, according to Dr. Fernando, and is common among the underprivileged who are assailed by poor nutrition and poor sanitation. Referring to the earlier successes of Sri Lanka, Dr. Fernando said that with the introduction of multi-drug therapy in 1983 and a very successful social marketing campaign in 1989, the authorities were able to bring down the numbers to fewer than 10 per 100,000 by 1995.

Then the country went into the disease 'elimination phase', most probably giving the public the misconception that there is no leprosy here. However, in the past decade patient figures have climbed up again, she said. To combat leprosy, the health staff at district level holds special skin camps in vulnerable areas while the Health Ministry is strengthening the cadres of dedicated Public Health Inspectors (PHIs) for leprosy, it is learnt.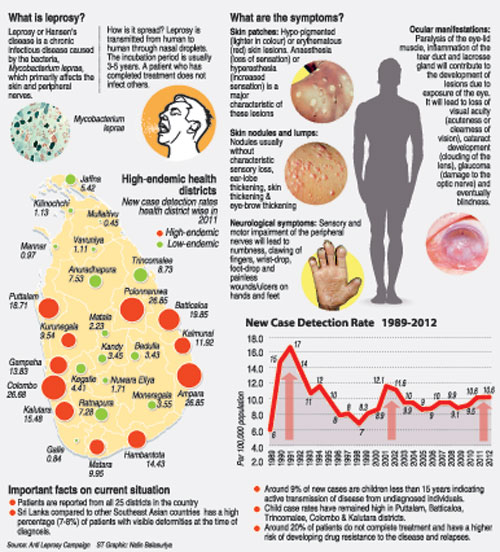 Follow @timesonlinelk
comments powered by

Disqus