E-waste collection centres to be set up in schools
View(s):

By Kumudini Hettiarachchi and Shaveen Jeewandara

Schoolchildren across the country will act as mediators to draw out e-waste lying in homes, in a major move by the Central Environmental Authority (CEA) this month to ensure its proper disposal without polluting the environment and causing illness.
We plan to set up collecting mechanisms in every province, making use of a network of 5,000 schools which are part of an environmental pioneering programme, said CEA's Waste Management Director Ajith Weerasundara, explaining that care is being taken over the involvement of schoolchildren as they cannot be asked to store e-waste.

Defining e-waste as waste of electronic and electrical equipment (WEEE) which could be hazardous, he says that any item which has a circuit, ranging from fridges to washing machines; electronic toys to vehicle parts; computer accessories to phones; and cassettes to compact discs, would generate this type of waste. (See graphic for imports)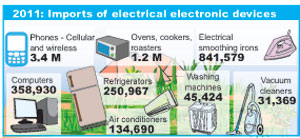 E-waste is different to normal waste as it is toxic, flammable and corrosive, it is learnt. Sri Lanka is a signatory to the Basel Convention which deals with trans-boundary movement of hazardous waste which includes e-waste. However, there is a loophole through which used computer peripherals are imported to the country as they are not defined as e-waste, he explains.
Mr. Weerasundara explained that computer monitors — the three types of which are cathode ray tubes (CRTs), liquid crystal displays (LCDs) and light emitting diodes (LEDs) — when discarded form a large part of e-waste. They contain hazardous components such as metals, plastic, glass and a flame retardant chemical. The metals may include silver, gold, palladium, platinum, ruthenium, copper, tin, antimony, cobalt, selenium, indium, ferrous and magnesium and heavy metals such as cadmium, mercury and lead.
The flame-retardant chemical, Polychlorinated Biphenyl (PCB), is carcinogenic (cancer-causing) and should be disposed of with care, he says, explaining that PCB needs to be broken down at very high temperatures, which is now being done at the kilns of Holcim. PCB is also present in widely-used power-packs.
Many households also do not know what to do with CFL (compact fluorescent lamp) bulbs and just dump them after use into their normal garbage. This is dangerous as they contain hazardous mercury and the chemical mix, phospour. Meanwhile, fridges give out ozone-depleting substances, according to Mr. Weerasundara.
Allaying fears about the use of electronic and electrical items, he assures that they will not cause harm as long as they remain as equipment. "The problem arises when they become waste and are thrown out and exposed to the environment. Some heavy metals from these items remain in the environment for a long time and can get biomagnified heightening the impact on the food chain."
Reiterating that e-waste cannot be managed in the same way as general waste, the feasible option, according to him, is to re-use or recycle it. However, the technology for recycling e-waste is very costly and as such available only in developed countries.
The option for Sri Lanka, the Sunday Times learns, is to collect the e-waste, store it under the right conditions and send it for recycling. Under regulations gazetted under the National Environment Act in February 2008, any person generating, handling, storing, transporting, recovering or recycling hazardous waste including e-waste should obtain a 'Scheduled waste management licence'.
The CEA licenses e-waste handlers on provision of proof that the waste collected would be exported. Currently Sri Lanka is mainly exporting e-waste to China, it is learnt.
Pointing out that private companies which import items that ultimately end up as e-waste have 'Extended Producer Responsibility', Mr. Weerasundara says that this can be ensured in two ways – either on a voluntary basis or through regulation. Commending the actions of some private companies which have volunteered, he said that Singer and Orange extend discounts whenever customers who wish to buy new products return used electronic and electrical items.
He requested other companies to follow suit and help Sri Lanka manage e-waste the way it should be done. Meanwhile, the CEA has facilitated "drop-offs" for e-waste over the past two years under the coordination of Acting Assistant Director P.M.D. Jayaneththi and Senior Environment Officer Wilka Ranasinghe. The "drop-offs" in April and June 2011 and June 2012 had been at Henry Pedris and Shalika Grounds and Campbell Park in Colombo.
"These have been highly successful and in one instance 4.5 tonnes of electronic waste were collected," Ms. Ranasinghe added.
Used CFL bulbs recycled 
Around a million CFL bulbs are used every month in Sri Lanka and mercury pollution is not merely local in its effect, as when it reaches the ocean, it can spread all over the world, said Orange Plc's General Manager Supply Chain, Gamini Ranasinghe.
Recognising the need for responsible and environmentally-friendly disposal of CFL bulbs, Orange Electric's Managing Director, Kushan Kodituwakku, has set up South Asia's first ever CFL and fluorescent bulb recycling plant in collaboration with Per Kristoffersson, Founder of Nordic Recycling AB of Sweden. Nordic Recycling is the market leader for recycling of lamps in Scandinavia, approved by the Swedish government for handling of dangerous waste, he says.
Supported by the CEA and operating under Asia Recycling (Pvt) Ltd, the plant of this joint venture in Pitipana, Rideemulla, in Homagama South, has the capacity to recycle up to 30 million bulbs per year, nearly three times greater than the annual CFL usage in Sri Lanka, it is learnt.
The technically advanced recycling system at this plant separates the glass from the plastic base, before cleaning the glass of its mercury-bearing powder coating. All parts of the lamp are treated chemically and mechanically to achieve a virtually total removal of the mercury within a completely sealed machine, says Mr. Ranasinghe, pointing out that it results in a recovery rate exceeding 95%.
This is well within the limits approved by environmental authorities worldwide and has no harmful impact on the environment. The recovered glass is used in the production of new glass items, the end caps recovered as metal and the e-waste collected by certified collectors appointed by the CEA. The plastic parts are recycled for the production of plastic items, he added.
Meanwhile, Singer Sri Lanka Executive Yasara Jasingarachchi said the company regularly collects e-waste from all its outlets and hands it to licensed exporters.
"We take one day off in the year, usually towards the latter part of May, to conduct door-to-door collections of e-waste from households. The public can also call our hotline (Phone: 011-5400400) and trucks in the vicinity will collect the stuff they have," she said, adding that seasonal discounts are offered if customers hand back their old televisions. This is a corporate social responsibility campaign.
Follow @timesonlinelk
comments powered by

Disqus