Schools ready for the kick-off
View(s):

Rugby season 2013

By Naushad Amit

The most anticipated events of the Sri Lanka Schools Rugby Football Association (SLSRFA) involving its Under-20 age category will officially kick off next weekend. Despite looming legal challenges from a couple of schools, the SLSRFA will go ahead with the competition, the Under-20 Division I Schools League according to secretary Susantha Mendis.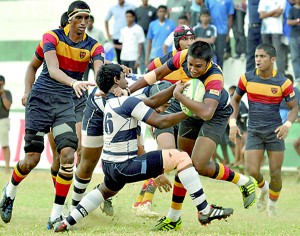 This popular and closely-followed schools sports competition has been slotted to kick off on March 12 with 30 teams drawn into three different groups in the competition. The Group 'A' segment of the Division I competition will include defending league champions Isipathana, Trinity, St. Peter's, Royal Colombo, Kingswood, St. Joseph's, Science, St. Anthony's with Dharmaraja and Wesley who were elevated after last year.
In Group 'B' D.S. Senanayake is ranked first followed by S. Thomas', Thurstan, Mahanama, St. Sylvester's, Nalanda, CWW Kannangara, Lumbini, Prince of Wales' and Ananda.
Group 'C' will include Carey, St. Benedict's, Royal Panadura, St. John's, Maliyadeva, St. Anne's, St. Thomas' Matale, Dharmapala Pannipitiya, Piliyandala Central and Lalith Athulathmudali MV. Meanwhile Vidyartha and Zahira colleges, who were found guilty of fielding ineligible players, have been demoted to the second division. They will start their campaign for lost glory with Vidyartha the leader of Group 'A' and Zahira heading Group 'C'.
According to insiders it is said that certain factions close to Vidyartha and D.S. Senanayake are on the verge of seeking legal assistance despite being found guilty.
The Sunday Times also learns that if a legal process is sought by either of the schools through an injunction order, most teams from Division I are likely to pull out from the official competition. Even if the Sri Lanka Rugby Football Union takes control of the competition, it is also learnt that most teams will go ahead with their traditional fixtures if such a situation arises. When questioned secretary Mendis said the SLSRFA is on the verge of changing the tournament format.
"All these problems persist because of this grouping system. We are looking at having a league tournament with the same amount of matches sans complications. Anyway this will be the last time this format is used; from next season we are planning to have the same 30 teams, but we are looking at omitting the segment part of it. We are still discussing things and nothing has been finalised as yet," revealed Mendis.
The Under-20 Schools Series will kick off with its All-Island Division I Sevens competition on February 16 and 17 at the Royal College Sports Complex in Colombo.
Before the main event of the schools rugby calendar, the Under-20 Division I Schools League competition, the SLSRFA will stage its Division II Sevens competition which they have planned to stage on March 2 and 3 at the BOI ground in Koggala.
Follow @timesonlinelk
comments powered by

Disqus