Why are UNP MPs silent over a new daylight robbery: Sale of duty free car permits?
View(s):

It is appalling that members of parliament (MPs) have been given the privilege to sell their duty free permits for Rs 20 million (upto US$50,000) (see "Christmas Bonanza for MPs; The Sunday Times, December 2, 2012).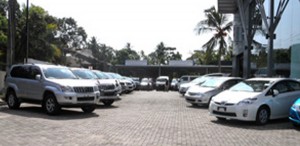 The government has also granted this concession to about 15,000 state sector officials. MPs were earlier prohibited from selling their duty free permit or the vehicle they had imported for five years even though it was an open secret that most of them did the dirty. Vehicle permits were given to them on the basis that it was for use in their official business but never adhered to; instead official vehicles were misused. Does this whole charade not tantamount to corruption/bribery? Should a small section of the population be given such financial advantages whereas the Constitution guarantees equality?
Legislators of all colours join when there are perks for themselves immaterial of the loss to the economy , due to their selfishness and greed. Is it not strange that the main opposition who accuses the government of various corrupt activity is silent when such costly perks are offered to MPs?
In such a situation when opposition MPs play ball with the government what can the country expect from such an opposition? Can Sri Lanka afford to give such concessions to a group that contributes the least to the tottering economy? The opposition headed by self-proclaimed clean individual melts when it comes to personal perks thrown at them rather than not accepting such filthy lucre. This is the miserable picture of our opposition.
We would also like to ask:
1) Christine Lagarde, Managing Director, IMF: The general public expects aid providing reputed organization such as the IMF to examine the fiscal policies of this country and ensure that no corruption takes place as it is the masses that suffer as the burden of repayment of loans falls on their shoulders. The IMF should examine what has been going on in this regard for the past three decades thereby creating much loss to the revenue of this country.
2) Ranil Wickremesinghe, Leader of the Opposition and United National Party: Some call you Mr. clean but sadly the corruption mentioned above does not seem to have got your antennas tuned towards the sleaze created by the duty free permit saga. You seem to have thrown in your lot together with your MPs in supporting these corrupt decisions whereby dirty money is accumulated by those who sell their permits, hurting the common man. An opportunity is also missed to show the country that your party and you are honourable and stand for righteous principles. Where is the statesmanship in you? How we wish there were Mohandas Gandhis or Nelson Mandelas among us. Why didn't the UNP vehemently protest against this highway robbery and enlighten the general public about this corrupt activity (like the Greek Bond issue) to show that you and your MPs are of a different class? Sir, this is a shame, a great shame.
3) Ven.Maduluwawe Sobhitha Thero: Ven, Sir, what is your response to to downright robbery of the people?
4) Tilvin Silva: General Secretary, JVP: Why is the JVP silent on this? If not please educate the people on this corrupt practice and show the country that the JVP is above other parties.
5) Director Transparency International Sri Lanka: We expect you to fight this corruption.
6) Secretary-General, Chamber of Commerce: The chamber should have the guts to stand up to such corrupt activity in the interest of the country. Sadly the chamber has failed Sri Lanka in this aspect.
7) Eran Wickrameratne, MP: The public expects you to live up to the principles that you preach. You make such a din in parliament but not a whimper about this foul deal. Show the electorate that you are different from others as demonstrated at talk shows.
Citizen Silva (through email)
Follow @timesonlinelk
comments powered by

Disqus