On a ride with those beauties of the past
View(s):

A lover and collector of old crocks, Asgi Akbarally has steered a new coffee table book, 'Classic and Vintage Automobiles of Ceylon' to its finish line. Here he talks to Smriti Daniel about his driving passion for cars with a history

In Asgi Akbarally's family, a car is never just a car. Sitting in his office off Darley Road, Asgi tells us each car has a story. A collector and connoisseur, he is behind a beautiful new coffee table book titled 'Classic and Vintage Automobiles of Ceylon'. He and his sons Hussain and Shiraz together selected the 105 magnificent specimens that are featured in the book. While the vehicles come from the garages of Sri Lanka's vintage car enthusiasts and would turn heads on any street, some have a particular personal significance for Asgi.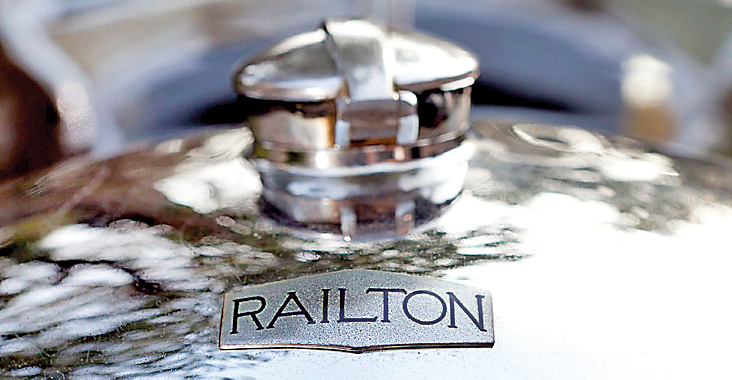 There's his first car – a Mercedes-Benz 170V – that he bought from Gajasinghage Silva, a bus driver who insisted on delivering it to the new owner's doorstep, keys presented on a few betel leaves. Then there's the jaunty red Mercedes-Benz 280SL with a 'pagoda roof' that Asgi bought from legendary architect Geoffrey Bawa on the condition that he would restore it and return to take its former owner for a ride. (Sadly, a month after he did so, Bawa suffered a severe stroke, making it his last trip in the car).
But among his earliest memories are those of a black Mercedes-Benz 200 which was his father Abbas' most prized possession. Mr. Akbarally Snr. bought it from Merrill J.Fernando (founder of Dilmah) in 1970, just two months after Asgi was born. He insisted his wife Perviz keep her fingernails trimmed so she wouldn't inadvertently leave a scratch on the woodwork but also gave one of his sons driving lessons in the car. When he was finally forced to sell it, it was to raise capital to fund a new company. It proved worth the sacrifice – today Akbar Brothers is a giant among Sri Lankan tea exporters. Besides, it wasn't a permanent parting. In 2002, his family reacquired it for Mr. Akbarally to mark the 50 years he had spent in the tea trade. In a family mad about vintage vehicles, it would have been hard to find a finer present.
Asgi understood early that these cars had real character. Glamorous but often cantankerous, they were hard to acquire, demanding to restore, time consuming to maintain and difficult to drive. "In the classic and vintage cars, each is absolutely distinctive," he says, though it must be admitted, "It doesn't make sense financially to restore a car." Just the first paint job can cost as much as the car itself and owners may spend over 10 times the vehicle's worth to get it running.
You would also be well advised to acquaint yourself with a vintage car before you climb in: You might never move if you didn't know that in this one, you have to press the accelerator down all the way right at the start or it will flood. In the other, touching the accelerator too early will get you the same result; the clutch pedal might be placed awkwardly in the centre or the gear ratios may be different. "Each has its own peculiarities," says Asgi. Writing in the introduction to the book, Asgi notes 'even though modern cars are faster, safer, more reliable, extremely fuel efficient and emit fewer pollutants, they lack the soul and character that vintage and classic cars provide. Fouled blocks, fouled plugs and the occasional thallu (push) provide vintage car buffs with the involvement, excitement and adrenaline rush that newer cars fail to deliver.'
What makes a car vintage? One way to classify cars is by the year of their manufacture: those made between 1919 and 1930 qualify as vintage, says Asgi, explaining that 1931 to 1941 are post-vintage (i.e regarded as made in the vintage tradition) and that those trundled out of factories post 1942 are dubbed classics. The first vehicle featured in 'Classic and Vintage Automobiles of Ceylon', a Wolseley Open 2-Seater Tourer manufactured in 1902/3, is actually Edwardian, separated by over 80 years from the last entry – a Ferrari Mondial t circa 1991. In between these two, you'll find cars both classic and vintage, each with a story to tell.
Of Belgian make, the Pipe 16-20HP appears on page 43 and was counted amongst the world's most expensive cars. A favourite mode of transportation among European Royalty, the Pipe was known for its speed on the race track. "There are very few left in the world," says Asgi, "this is probably the only one left in Asia." Brought to Sri Lanka around 1913, the car was in the care of a single chauffeur, Mr. Haramanis, for many decades. Beautifully maintained, it has remained in the same family throughout and is currently owned by Arjun Deraniyagala.
The Rolls Royce 20HP Saloon on Page 61 was purchased by Mrs. Jeremias Dias (founder of Visakha Vidyalaya) and was placed at the disposal of Nobel laureate poet and writer Rabindranath Tagore during his visit to Ceylon. The car has remained in the same family for 90 years and is currently owned by Ajith Dias. A particularly exquisite specimen is the SS1 20HP 2-Door Airline Saloon. The car once belonged to Jawaharlal Nehru. Despite its historic value, it had been reduced to a rusted chassis and a suitcase full of parts. Asgi bought it and brought it home – it took him seven years to restore it to its former glory.
The Railton Super Eight Sports Tourer on Page 95 is currently in the possession of Roshni de Mel who belongs to a rather unusual family of driving enthusiasts. At one time the owners of 32 racehorses, the de Mel/ de Soyza families claim among their ancestors E.L.F. De Soyza, reportedly the first Sri Lankan to own and drive a motor car in Sri Lanka in 1903 and Catherine Peiris de Soyza, who was the first Sri Lankan woman to drive a car here. (She did so without a licence – one wasn't required then.)
In 'Classic and Vintage Automobiles of Ceylon' these cars appear at their most stunning in photographs taken by Devaka Seneviratne. Each is posed in a beautiful location – tyres lightly wet by the waves in Galle or parked against the imposing façade of a venue like the Town Hall or the National Museum in Colombo. The shoots required a plethora of permissions – from the Navy and the Ministry of Defence – but also from the caretakers at Independence Square who bewilderingly insisted photographs could be taken from the left but not from the right.
Though he had a team to assist him (Gishanka de Silva, Ali Azeez, Dilip Vazirani and Daisy Perry for the text, and Deshan Tennekoon and Asvajit Boyle for layout) Asgi wanted to be very hands on and says the book has been an old dream. It opens with a history written by fellow vintage car enthusiast Freddie Alles before going into the details of individual cars, including their history in Sri Lanka.
A self-confessed 'petrol head', Asgi was once a fixture on local racetracks and has served as the President of the Ceylon Motor Sports Club, the Mercedes-Benz Club of Sri Lanka and the Vice-President of the Classic Car Club of Ceylon. He keeps his collection of vintage cars on an estate in Bolgoda, but always makes sure there's one for him to use in the city. He says his sons, who grew up watching him tinker with cars, are now even more expert than he. The cars themselves, sometimes bought for as little as Rs.15,000, continue to grow in value by leaps and bounds but then for Asgi owning a vintage car isn't about the money. "These are family heirlooms now," he says.
'Classic and Vintage Automobiles of Ceylon' by Asgi Akbarally is priced at Rs.8,000 and is available at Hermitage, Barefoot, Odel and Paradise Road Galleries.
Follow @timesonlinelk
comments powered by

Disqus