Into the devil's lair
View(s):

Young Sri Lankan chef Shanil De Mel recounts his experience in Gordon Ramsay's kitchen

By Duvindi Illankoon

Shanil De Mel jumped out of a boiling pot and into the frying pan-quite literally. Falling ill right before his biggest educational hurdle-the Advanced Level examination and was devastated when he couldn't sit for it. An impatient Shanil, while deciding to move to Australia to complete his studies was stumped for a career choice.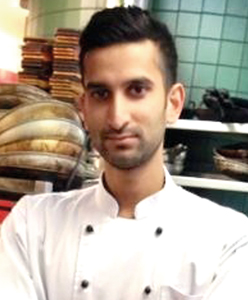 "I had absolutely no clue what I wanted to do with my life," he says in an email interview. His dad came to an unwitting rescue when he suggested that Shanil complete work experience at the Ceylon Continental Hotel's pastry kitchen in Colombo.
At the hotel, amidst the hustle and bustle of clashing pans and the wafting aromas of delicious food, Shanil fell irrevocably in love. "The first proper dish I experimented at home with was something I had learnt at the Continental, a chocolate mud cake.
Ammi and akki were my guinea pigs and the reviews were all positive. Come to think of it, they may have been a little biased! But I took the plunge with cooking and haven't looked back since," he says. A two-year Commercial Cookery programme at the William Angliss Institute of TAFE followed. Shanil's quest for mastering the art of cooking and cooking well took him from Sri Lanka to Australia and straight into Gordon Ramsay's Maze kitchen in Melbourne. He was 24-years old at the time.
As part of his Bachelor of Hospitality and Tourism Management degree, Shanil was required to complete one year in a professional kitchen. Melbourne, being home to over 2000 restaurants presented endless opportunities but the young chef was determined to take things up a notch. "I decided that I was somehow going to get into Gordon Ramsay's new restaurant (Maze), and after a surprisingly short interview I managed to. It was fantastic."
"Gordon Ramsay is a chef that I've closely followed for many years," he adds. "So to get into his kitchen was a dream come true." The infamously short tempered Hell's Kitchen presenter is one of Britain's most celebrated chefs and TV presenters, and owns a group of highly successful restaurants across the world. The Maze restaurants are one such venture, with operations in New York and Dubai as well.
At the Maze kitchen, Shanil's day begins at start 7 a.m.-sometimes earlier if it was expected to be a busy day. "Our first task would be to look at the list of food preparation tasks known as a prep list that needs to be completed in time for the lunch period that takes place from 12-3 pm," he explains.
"During the morning, we're all expected to complete our allotted tasks to a very high standard within the given time frame. Once the lunch service is complete, the entire kitchen is cleaned spotless and then the shift is taken over by the next group of staff."
At Maze, Shanil's celebrity clientele included Missy Elliot and Mark Vaugh. "Most of the time celebrities dine anonymously and we're rarely told who we're cooking for because standards are expected to be the same. But sometimes word gets out and then the pressure is really on," he says. The secret to working successfully at Maze, or any of Ramsay's kitchens is pretty simple, he says. "You need to have passion and dedication towards what you do, because expectations are very high. You've got to be punctual and very, very disciplined. And most importantly you've got to be able to adapt to the extremely fast-paced environment. There's no room for slacking."
It certainly wasn't an easy stint, working in the celebrity chef's kitchen who is most well known for his culinary perfectionism. Ramsay is reputed for throwing staff out of his restaurants over minor imperfections and for the tough stance he takes on those he employs. "He can be tough in the kitchen, but not to the extent portrayed on TV," says Shanil.
"We were the first group of staff to work in the new Maze restaurant, so I felt quite nervous but excited at the same time. It was fantastic to watch and learn from some great chefs-I gained invaluable knowledge about how kitchens are run successfully."
From the Maze kitchen, Shanil moved on to the Airstream Cafe in Melbourne, where he works as a Sous Chef-and has sneakily introduced Sri Lankan cuisine into the menu! "I've created a Sri Lankan tapas dish, with fried peanuts and sprats inspired by the little road side carts on Galle Face that we're all familiar with," he enthuses, adding that he hopes to combine such traditional dishes with other Sri Lankan delicacies in the future.
Shanil's goal is to move on to the next position of Head Chef one day, and eventually set up his own restaurant in Sri Lanka or Australia.Quite contrary to what one would expect, that a once in a lifetime opportunity in Gordon Ramsay's kitchen would prove to be anything but hellish for this young Sri Lankan chef!
Follow @timesonlinelk
comments powered by

Disqus