Appreciations
View(s):

A family doctor whose bedside manner alone would cure patients

Dr. H. I. E. Katugaha

As the flame of a candle is snuffed out by an unexpected gust of wind, so did Katu depart this world. One minute in the midst of a happy family gathering, next minute the life, the spirit and soul of Katu was whisked away leaving a shocked and grieving family a few days ago.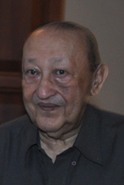 I first met Dr. Indra Katugaha, Katu to his friends, when I was transferred to an estate in Passara in the early 1970s. He was a doctor in Badulla. One of the first things he did was to relate, in animated detail, his recent meeting with Ian Douglas Hamilton the world famous elephant researcher and conservationist from Africa.
I soon realised that Katu had a lifelong passion for elephants. It was not merely the passion of an amateur. On the contrary he was a very keen student of wild elephants. Amongst his achievements is his unique record of studying the elephants in Yala for well over 50 years. His observation of elephants was not confined to merely recording numbers of elephants seen, but he also observed very carefully the movements and behaviour of these giants. He analysed all his observations which translated to a unique knowledge of both tame and wild elephants in this country.
Katu came from a well known Sabaragamuwa family that had owned elephants for generations–a family that organised elephant kraals and had a fondness and love for wild elephants. The most famous member of the family was Sam Elapatha Dissawa of Godakawela.
Katu freely shared his vast storehouse of knowledge on most aspects of elephants with all those interested. I for one benefited immensely from Katu's knowledge given to me happily at all times. I am eternally grateful to Katu for this.
He was a life member of the Wildlife and Nature Protection Society and regularly contributed to its journal Loris. He also contributed to Gajah the IUCN international journal on elephants.
Katu was in private practice in Badulla when I first met him. He was the ideal family doctor, kind, patient and understanding. He spent a lot of time with each of his patients. His kindly bedside manner alone was sufficient to cure most of his patients. He later moved to Kandy and practised there.
Our deepest sympathies go to his wife Lalitha and daughters Shalini and Cyanthi, who were his pride and joy. Their solace would be that they were an integral part of the life of this exceptional man.
Katu's journey through Samsara will start with the trumpeting of elephants. Goodbye Katu my friend. I will certainly miss you. May you rest in peace.
Jayantha Jayewardene
A life dedicated to social service
Susila De Fonseka 
Susila de Fonseka passed away on November 22, 2012, at her residence in Moratuwa after a short illness. Her remains were cremated the following day in a simple private funeral.
I came to know the family after her husband the late Chandra de Fonseka assumed duties as M.O.H. Baddegama, in the early Fifties. I worked as a clerk in the office of the M.O.H. Dr. Fonseka resigned after a few years and moved to Moratuwa, where he continued in private practice till his death in 1986.
Mrs. Fonseka was a "dayaka" of the Sri Wijaya Saugatha Pirivena, Walana Panadura. She also regularly gave alms to the inmates of the Moratuwa Elders' Home.
Doctors in the family and helpers cared for her during her last illness. May her journey in Sansara be short till she attains the Supreme Bliss of Nirvana.
V. K. Wijeratna
Architect who returned to serve his country
Channa Wimalaratna
It is with great sorrow that I pen these words about Channa Wimalaratna, who passed away in October this year, after a brief illness.
Channa had his education at Royal College, Colombo. He was proud of the fact, but never boasted about it. He had a distinguished academic career, and came to Australia in 1956 as a private student. He graduated from Melbourne University as an architect, but he wanted to serve his motherland out of gratitude for the free education he had received in Sri Lanka.
Channa returned to Sri Lanka and joined the River Valleys Development Board (RVDB) as an architect, serving in Embilipitiya, a remote area in the 1970s. He would reminisce about the good times with his family, colleagues and workers in Embilipitiya. After a stint with the RVDB, he joined the Colombo Municipal Council as a town planner. In 1973, he migrated to Australia with his wife Malani, daughter and son – mainly to give his children a good education.
In Australia, he was a member of the Melbourne Town and Country Planning Board until he retired at the age of 64. After retirement, he had a short stint with the local council but decided to give that opportunity to a younger person.
He was a gentleman through and through. He was gentle and honest. His integrity was unquestioned. The large gathering at his funeral showed how much he was loved by people of all walks of life in Melbourne. He was enthusiastically involved with the Sri Lankan community, and was an ex-president of the Sri Lanka Club of Victoria (SLCV). He was also a keen member of the Buddhist Society of Victoria and a supporter of The Society for Peace, Unity and Human Rights for Sri Lanka.
Channa's mother died at an early age, and he was brought up by his aunt. He was a family man, close to his relations on both sides.
I got to know Channa when he married my cousin Malani. I am sure he felt deeply the untimely death of his cousin Major-General Wijeya Wimalaratna, whom he knew as a child. When he spoke about Wijeya, he became emotional. I sensed that Wijeya's untimely death left a vacuum in Channa's life.
He was a generous person, sponsoring children through World Vision as well as two children whose parents were soldiers and sacrificed their lives for the country.
Channa was passionate about jazz. He appreciated good Sinhala oldies sung by Sunil Shanta, C.T. Fernando, Chitra and Sompala.
The day before he suffered his stroke, he and Malani were singing CT numbers at the Senior Sri Lankan Citizens' weekly gathering.
Malani told me he never missed a good jazz performance in Melbourne. They both had the good fortune to see and hear great music legends such as  Frank Sinatra, Louis Armstrong, Dizzie Gillespie, and Ella Fitzgerald, to name a few. He loved Sinhala classical and light classical songs, and never missed a performance by Pundit Amaradeva, Victor Ratnayake, Nanda Malini, CT Fernando and so on, whenever they performed in Melbourne.
Gentle, honest and selfless, Channa lived a full life, enjoying every minute of it. He is survived by his beloved wife Malani, daughter Chanmalie and son Sujeewa. As a relative and a friend who enjoyed his company, I too miss him dearly.
May he attain the Supreme Bliss of Nibbana.
Malin Abeyatunge
Man around the house was a wonderful husband and father
P. C. A. (Kenny) Perera
Thaaththie was called home to be with the Lord 15 years ago, on January 2, 1998. He was an exemplary husband to my mother and father to my three brothers and me. The one thing that was perhaps more important to him than his four children was his Roman Catholic faith. I am sure he would have died for his religion, if it was ever required of him to do so.
A proud human being with unwavering principles, Father always stood for what he believed was right, and no amount of persuasion would make him change his mind. I remember how passionately he drove a point home, whether it was political, religious or an everyday matter.
Thaaththie believed in a good education and ensured that the four of us were sent to the best schools in Kandy, despite the expense. I recall how happy he was when we brought home good reports and passed our examinations. He was ecstatic when my brothers got through their CIMA exams, and spoke of them with pride.
As a little girl, I remember seeing my father attending to things around the house. He was a Jack of all trades. There was nothing he could not do. He was the mason, the plumber, the electrician, the poultry farmer, the gardener, the doctor, and sometimes even the cook, when needed. He had all the tools he needed to complete to perfection any job he took in hand. As a result, there were no leaky taps in our home, and you never saw a dangling electrical wire. He was a firm believer in "a place for everything and everything in its place."
Thaaththie took his political allegiance so far that, I am sure, it gave Ammie grey hairs long before they were due. He was vociferous in his opinions of the "goings-on", even during the dark days of the late '80s. He would stand at the front door and carry on a conversation with the neighbour living across the road, his long-time friend Mr. Seneviratne. Ammie worried that talking loud like that about sensitive government matters would have bad repercussions, but Thaaththie was fearless.
In the latter years of his life, he took great pride in his grandsons Shaine and Shriyanka, who visited often and who doted on their grandfather. He baby-sat both boys and made sure they were well cared for. He would walk the length and breadth of Kandy looking for a particular chocolate his grandsons loved, or searching for a toy they had spoken about. He spent hours inside the play-pen, keeping Shriyanka company, reading to him and playing with him until Ammie was free to take over.
He was a strict disciplinarian with his children, so it was heartwarming to see him put his rules aside when dealing with his grandchildren, and his young nieces and nephews living next door. "Kenny Uncle" would come running if there was a medical emergency.
I could go on and on. Memories of Thaaththie fill my mind. Recollections of a father cannot be limited to a page or two, specially with a father such as ours, who gave his ALL for his family. I am sure Thaaththie is looking down from Heaven, knowing he is loved and remembered by us all.
Thaaththie, thank you for all that you were to Ammie, my Aiyas and Me.
Till we meet on that Golden Shore, goodbye!
Imelda Semasinghe – on behalf of Vasantha, Nimal and Shriyantha Perera
Thanking you for 57 years of harmonious married life
Thangammah Tharmalingam
My beloved and devoted wife passed away on November 27, 2012 at the age of 87, leaving me, our children and those near and dear, in deep grief.
We lived a congenial and harmonious married life for an uninterrupted 57 long years. Thangamma was a God-fearing and devoted life partner. I struggle to find words to express the deep sorrow that has gripped us. The demise of my life-partner has caused a void that can never be filled.
Although, she was used to city life, having been born in Vannarpannai, a municipal centre in Jaffna town, and having lived there all her life, she readily adapted to rural life without a grumble. I chose a rural life in view of my simple way of living and the career I was engaged in.
My wife never crossed words with me or engaged in argument. Her tolerance and obliging nature helped us to lead a congenial and harmonious married life. She was a pillar of strength to me during my ups and downs in life.
She brought up her five children, four sons and a daughter, in an exemplary manner. She coached the children in their education and moulded their character, while instilling religious and moral values in their minds to make them worthy citizens. She was also an adoring grandmother.
Due to the conflict, we moved south and set up home in Soyza Pura, Moratuwa. Even in Colombo, my wife followed the same routine.
Our children are all married and settled in life, but they remain deeply attached to their mother because of her caring and affectionate attitude.
When our daughter lost her husband, she did everything possible to keep her comfortable and happy.
We were extremely sad to see my wife suffering in her last days. We can neither bear her loss nor forget her. She lives in our hearts.
We believe she is among us, monitoring our welfare.May her blessed soul (aaththma) rest in peace at the lotus feet of Lord Siva.
Tharmalingam
Follow @timesonlinelk
comments powered by

Disqus