What's in a colour? A lot say transport stakeholders
Nadia Fazlulhaq reports
A cabinet decision to differentiate transport vehicles through a varied colour scheme faces road blocks
View(s):
The cabinet maybe revving to go ahead with a decision to introduce a colour coding system for passenger transport vehicles but it may not be such a smooth and bright ride. Private bus and schoolbus owners, drivers and passengers are opposing the moving pointing out that there are far more urgent issues that needed to be tackled first.
The cabinet last week approved a proposal by transport minister Kumara Welgama to paint passenger vehicles in different colours.
According to the proposal, private buses would have to be painted light blue (PANTONE colour code no. 2707 C), Sri Lanka Transport Board buses red (PANTONE colour code No. 185 C) and school vans and school buses yellow (PANTONE colour code No.1375 C.).
The decision would be implemented for new vehicles from February 1, next year and for those already registered from January1, 2014.
Minister Welgama said the colour coding would help curb the problem of unregistered vehicles.Motor Traffic Commissioner S.H. Harischandra said the move would minimise traffic accidents and bring more discipline to passenger services.
Meanwhile an expert in the field of transport said, since the early 1930's, school buses in the US have always been identified as yellow.
"In the US, yellow is the standard colour for school buses and this is even portrayed on television and in books just as much as fire-brigade vehicles are identified by their colour, red. This is similar to the red of Sri Lanka Transport Board buses. In India the buses are painted in various colours to identify the different states they operate in," he said.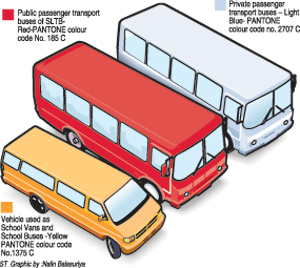 However, not everyone involved in the transport trade view the colour coding proposal in good light. Bus and schoolvan owners say the passenger service is plagued by far greater problems that need immediate redress.
Private Bus Owner's Association President Gemunu Wijeratne said the association will challenge the move to order vehicles to be coloured as the government had failed to bring in regulations for the betterment of the passenger service as a whole.
The buses maybe blue but if they are overloaded with passengers the beautification project would be of little value, he said, adding that for passengers rushing to work or school the comfort was more important than the change in colour.
Questioning the financial aspect of the venture Mr. Wijeratne said there were about 4000 SLTB buses and 20,000 private buses and it would cost about Rs.125, 000 to paint a single vehicle. He said about 75 percent of people in the field were single bus owners whose incomes were limited although expenditures were increasing by the day.
He added that there was nothing new in painting the SLTB buses as they were already red and these buses did not require to pay for route permits, emission tests or insurance unlike privately owned buses.
Pointing out the more important issues that needed to be tackled to ensure a smooth running service, he said, time tables should be followed to the letter to avoid inconvenience to passengers in addition to promoting ethical behaviour among drivers and conductors as public complaints had increased in this regard.
Meanwhile All Island School Children's Transport Association President L. Mal Sri de Silva said many school bus/van drivers were already burdened with financial difficulties.
He said although ministers may travel to developed western countries and laud their coloured buses, here it was a far bleaker picture. "From the income the busowners earn, once the lease is paid, they hardly have money to manage for a whole month. Some pawn jewellery and land to buy schoolbuses. A van, would cost about Rs. 75,000 to be painted and a bus about Rs. 100, 000," he said.
Mr. de Silva, said although the association had sought financial assistance from the National Child Protection Authority to purchase the paints, they didn't receive a positive response.
"The NCPA refused although we explained that the colouring would ensure more safety for children," he added.
Follow @timesonlinelk
comments powered by

Disqus