Killings unlimited
By Damith Wickremasekara
Homicides on the rise as Sri Lanka averages two a day in the last few months
View(s):
At least two persons are killed every day in the country, showing a marked increase in homicides during the past few months, police revealed this week. This week brought this fact of local life into sharp focus, with a string of homicides including the killing of an Officer in Charge (OIC) of Police in Ratnapura, a family of three in Bulathsinhala, and a lecturer in Merchant Shipping in Bambalapitiya.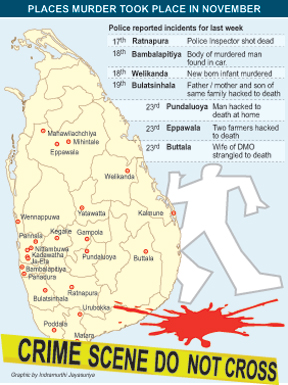 "Our investigations have revealed that some of the killings are for petty reasons such as land disputes, misunderstandings or robberies," a senior police officer not authorised to speak to the media, said.
Last Sunday, Ratnapura Police Training School OIC, R.M. Indrasoma Ratnayake, 57, was on a visit to his personal property, when he was confronted by his neighbour, T.M. Dharmasena, a retired Bank officer.
Both the OIC and his neighbour were involved in a longstanding land dispute over the right of way over an access road.
According to eyewitness accounts, Dharmasena had opened fire at the OIC with his shotgun, killing him instantly. Dharmasena too had been injured, as the shotgun had backfired. Mr. Ratnayake had joined the police in 1975, promoted as Sub-Inspector in 1985, and later promoted to the present rank of Inspector of Police.
On the same day, Vijith de Costa, a lecturer in Merchant Shipping, was found dead inside his car parked along Marine Drive at Bambalapitiya. Investigations have revealed that the killing had been carried out over a personal dispute, and a father and son duo known to Mr. Costa, have been arrested in this connection.
In Bulathsinhala, a father, mother and son had been killed by a gang looking for the proceeds from the sale of a land in the area, by this family. The victims were identified as M. Ayadoris, 92, H. Misilin, 85, and H. Dharmadasa, 62.
According to a police officer in Bulathsinhala, the family had attended an almsgiving and was killed late in the night.
A schoolboy who had strayed into the victims' garden, had heard someone crying in pain and alerted his father who had found the father and son dead, while the mother who was in a critical condition had died later.
The robbers had broken into the house and ransacked the place and are believed to have removed cash and jewellery.
In another incident in Boralesgamuwa, a gang had broken into a house and killed a mental patient in a case of mistaken identity. Earlier the gang had come and threatened the victim's elder brother, accusing him of robbing a three-wheeler.
According to police, they are supposed to have cut off the power supply and broken into the house to carry out the killing.
The latest deaths were reported from Eppawala on Friday night, where two persons have been killed in their paddy field. Investigations are underway into the incident. In another incident, D.N. Suneetha, wife of the Deniyaya hospital District Medical Officer, was killed on Friday, at their Buttala residence.
The senior police officer said that, during the last month, more than 70 killings were reported from various parts of the country, while this month, already, over 60 have been reported.
The officer said that, in most of the recent cases, police have been able to arrest the suspects. "Ultimately, the killers have not achieved anything, except gaining a jail term," he added.
Follow @timesonlinelk
comments powered by

Disqus