Silver coin for 60 Years of diplomacy with Japan
By Kavan Ratnatunga
View(s):
A commemorative one thousand rupee silver frosted proof coin was issued this week to mark 60 years of diplomatic relations between Sri Lanka and Japan.
The frosted proof coin has been struck with twenty grams of sterling silver and has a diameter of 35 mm, which is a new weight and size for Sri Lanka coins. It is the first Lankan coin minted in Japan and first with an actual multi-colour photograph printed on the coin, issued by the local Central Bank (CB).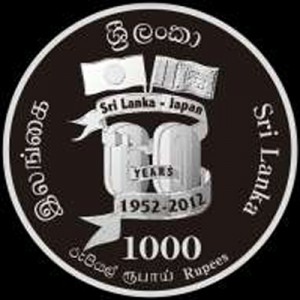 Both the Central Bank and the Japan Mint have been authorised to retail the coin to interested collectors. The product was over-subscribed and buyers in Japan were selected using a Lottery.
Of the 20,000 coins minted 5,000 were boxed alone and sold in Japan at 6,000 Yen (Rs 10,000). CB ordered a very small number since they don't expect to sell many at this high price. On 15th November, the CB adding cost of courier charges and VAT, issued about 200 coins to the public at Rs 12,500 each. This is far less than the estimated 1000 coins, needed to meet Numismatic collector demand in Sri Lanka. The remaining 15,000 were packed with a set of 2012 Proof coins of Japan and sold in Japan at 13,000 Yen. This is the first such product with a Lankan coin, but is not sold in Sri Lanka.
On the two occasions that the Royal Mint sold Sri Lankan commemorative coins, they were sold in UK by the Royal Mint, at more than three times the price as sold by CB at that time. The Sri Lanka Numismatic Society wrote to the Embassy of Japan in Sri Lanka and the Japan Mint asking them to give a discount to ensure that the CB will be able to sell them at least at the same price as in Japan.
In an e-mail reply, the 1st Secretary to the Embassy of Japan in Sri Lanka said, (I quote) "There will be no discounts on the part of Japan because it is the domestic sales unit price, which is strictly fixed by the government order of Japan. Please note that both Japan Mint and Central Bank of Sri Lanka will not make any profit at all out of this issue."
In an e-mail reply the Japan Mint said (I quote), "We are really confident not only on the proof quality to emboss the official logo of the anniversary elaborately with the frosting processing technique, but also on our proud colour printing technology applied to the relief on the coin in order to recreate the image of the Upper Kotmale Hydropower Project in detail. We believe that the collectors of this coin will feel such high quality is worth its price."
The Mint of Japan has announced that this is the second commission from a foreign country they have received for the production of coinage, the first coin having been the Government of New Zealand in 2007. New Zealand-Japan Friendship Silver Proof Coin One Dollar, with Aoraki / Mount Cook was issued on 4th December 2007. The Japan Finance Ministry and Japan mint have been working to win foreign coin orders.
The price does not reflect well on the international competitiveness of the Japan Mint. The CB's crown size silver coin which also has a printed image, is 40 per cent more heavy and sells in 2012 November for Rs 10,650. So the Japan Mint coin should have cost at most around Rs7500. Since it was a no tender bid contract given by the CB to the Japan Mint, the CB should have insisted on getting about 1000 at a price that would have been charged by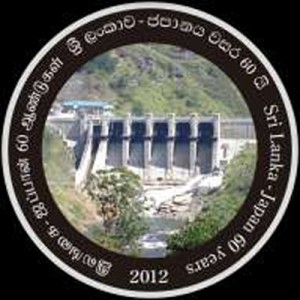 Royal Mint to strike a similar coin.
Fred Medis was a former president of the Japan-Sri Lanka Friendship society and promoted the issue of this commemorative coin as a circulation issue at face value.
Collecting anything as a hobby is clearly an addiction, which can be exploited by dealers and issuers of the items collected. Although it may not be harmful for your health like drugs, it can clearly become harmful for your finances. The CB has now taken commemorative coin collecting, clearly out of being able to promote as a youth activity.
It is a pity that this Sri Lankan coin which celebrates 60 years of diplomatic relation between Sri Lanka and Japan will be out of reach of most collectors in Sri Lanka, while much large numbers are sold in Japan.
Follow @timesonlinelk
comments powered by

Disqus