MR's quip: Weli to save weli
View(s):

Last Wednesday's weekly Cabinet meeting saw some humorous moments after ministers discussed illegal sand mining. Most of them spoke in Sinhala and referred to sand as weli. They were complaining about the environmental damage that was being caused.

That prompted President Mahinda Rajapaksa to remark in Sinhala "why don't we send Weliamuna to sort matters out." J.C. Weliamuna is a human rights lawyer and has drawn government criticism for his appearance in some cases.

The remarks came when ministers discussed a Rs. 242 million project to build a 477 metre long retaining wall along the Mahaweli Ganga bank to protect several Government buildings.

A proposal sent to the Cabinet by Sarath Ekanayake, Chief Minister of the Central Province "to protect the river bank of the Mahaweli, which is facing erosion at present, with the view to ensuring the safety of the Mahinda Rajapaksa ICT centre, the provincial library and surrounding buildings at Getambe."

Another highlight was when External Affairs Minister G.L. Peiris waxed eloquent on procedures related to Parliamentary Select Committees. When he tried to argue that his position was correct, a colleague cut in to say he was wrong. The rebuke ended the discussion on the subject.

Why President stepped into shoes of schoolchildren

Every week, President Mahinda Rajapaksa meets groups of schoolchildren on the lawn of Temple Trees. They come from schools in least developed areas in the country.  Officials who arrange for such visits ensure Rajapaksa makes a donation to the school library or other project that needs money.

Days ahead of the budget, President Rajapaksa was deeply touched by what he saw. There were schoolchildren in torn and old shoes. A few of them, when asked, confessed to him that they had borrowed pairs of shoes from neighbours to visit Temple Trees.

Rajapaksa whispered in the ears of an aide and soon a van load of shoes arrived. They were hurriedly distributed among the schoolchildren after their foot sizes were determined.

This is what prompted Rajapaksa to ask Treasury Secretary to include in the 2013 budget proposals a scheme to provide free shoes to schoolchildren.

Dullas rejects Gangnam politics

Minister Dullas Alahapperuma's response to opposition MPs criticising the budget in Parliament last week took the form of advice on political culture.

He said Gangnam style of politics does not suit Sri Lanka. "At one time you move your hands, then your head and then your legs," he declared much to the amusement of his colleagues.

"Gangnam Style" is linked with upscale fashion and lifestyle by trendsetters in the South Korean capital Seoul. The Gangnam District there is regarded as the wealthy sector of the metropolitan area. Some even compare it to the English slang "swag."

Bad weather brings good luck to Akmeemana

There are occasions when bad weather determines the itinerary of the President. One such instance was last week.

President Rajapaksa boarded his Sri Lanka Air Force VIP helicopter for a flight to Kamburupitiya in the south. There, he opened the Army's Abhimansala and later boarded the chopper for a flight to Galle.

Heavy cloud cover prevented the pilot from landing.

After a few attempts, the pilot, who encountered difficulty touched down on a patch in Akmeemana, some 20 kilometres away. Villagers who were pleased that the President was making an unannounced visit to their area flocked in numbers. They began cataloguing the problems they faced. Some wanted improved road networks whilst others wanted new marketplaces.

The President waited for his motorcade to arrive. It was getting late. So he decided to get into a Police vehicle and proceed to a Buddhist temple where a ceremony was under way. Half way through, his vehicle arrived and he made the trip to Galle by road.

Heart to heart with Jayalath

Though not crowned the king of public relations, that is what President Mahinda Rajapaksa has turned out to be.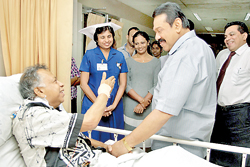 Recently he paid a visit to the Sri Jayewardenepura Hospital where UNP Parliamentarian Dr. Jayalath Jayawardena was warded due to a heart ailment. He was accompanied by a former UNPer and now Minister, Johnston Fernando.
Jayawardena made a confession. He said he developed heart problems when he was just busy in Parliament writing a letter to the UN Human Rights Council in Geneva about the impeachment motion against Chief Justice Shirani Bandaranayake. His party had told him to do so.
It was just then that he felt discomfort in his chest. "See what happens when you do that to our President," joked Fernando.
Rajapaksa on a more serious note said he had seen Jayawardena on a TV talk show. He was shouting himself hoarse.  The President said he should be more careful.
MPs wait as Namal does yoga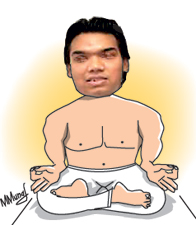 Some Government Parliamentarians were awaiting the arrival of Namal Rajapaksa, Hambantota District MP, for a discussion.
When he was getting delayed, they began airing views. Then the group saw the young Rajapaksa arrive. "Mokkada Namal malli adha parakku," (Why Namal brother are you late), asked Minister Dilan Perera.
He replied "Hema wedak athara, Yoga karannath daagaththa. Eka manasata hondai" (Amidst my busy work schedule, I took time off for Yoga. It is useful for the mind), he replied.
Questions cost six million rupees
Chief Government Whip Dinesh Gunawardena had a word of advice to opposition MPs. "Ketiyen prashna ahanna. Peduru wage prashna ahanna epa, (Ask short questions and not long ones like mats), he said.
The reason – it has cost the Government six million rupees to find answers to some questions raised.
Gunawardena said it took four months for the Government to respond to a question by UNP's Joseph Michael Perera, a former Speaker.
His advice came when UNP MP Ravi Karunanayake asked why there were delays in responding to questions.
Uganda's President brings his own cook and water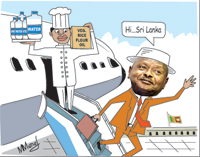 Uganda's President Yoveri Musaveni arrived in Sri Lanka on an official visit not only with an entourage but his cook and clean water from Uganda.
At the Colombo Hilton where he stayed, his own cook turned out his meals and he used fresh bottled water from his own country.
The former General told President Mahinda Rajapaksa he was taking his cook and his own water because he was very concerned about his health. He said he only ate vegetarian food.
Follow @timesonlinelk
comments powered by

Disqus