Top ten miracle sporting comebacks
View(s):

Europe's victory over the USA in the Ryder Cup is already being dubbed the 'Miracle of Medinah' after the visitors came back from being 10-4 down at one stage to win the Cup 14.5 points to 13.5.

Such was the USA's dominance that one American journalist even declared the contest as 'over' after just two days.
However, in sport you should never declare something a dead cert until the fat lady has sung — as these examples testify.

Liverpool v AC Milan, 2005 Champions League final

Rafael Benitez's men looked dead and buried at half-time in Istanbul as the Italian giants tore them to shreds in the opening half. But skipper Steven Gerrard had different ideas, inspiring an incredible comeback that saw them score three goals in six minutes to force extra time. The game went to penalties, and Liverpool won as Jerzy Dudek saved from Andriy Shevchenko to complete the match now known as 'The Miracle of Istanbul'.

Sugar Ray Leonard v Thomas Hearns, world welterweight title fight 1981

WBC champion Leonard faced the undefeated WBA title-holder Hearns at Caesar's Palace in one of the greatest fights in boxing history. Hearns was miles clear on the scorecards as early as the sixth round, while Leonard had a swollen eye, and despite a wobble in the seventh and eighth rounds it looked as if Hearns would cruise to victory. Then came the now-legendary words of Leonard's trainer, Angelo Dundee, after the 12th round: "You're blowing it, son! You're blowing it!" Leonard unleashed everything at Hearns, knocking him down twice in the 13th, and then pummelling him so badly on the ropes in the next round that the referee stepped in to declare him the winner.Stephen Hendry v Jimmy White, 1992 snooker World Championship final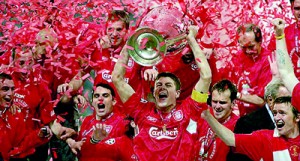 White will forever be referred to as the 'People's Champion', but never landed the one tournament he wanted to win the most: the World Championship. The 1992 final looked certain to see him break his duck as he roared into a 14-8 lead. Hendry, with nothing to lose, simply started throwing everything at his opponent, potting an astonishing brown to avoid going 15-9 down two frames later. He returned for the evening session with a bang, immediately clinching a key black ball frame, then banging in break after break – including three centuries -reeling off 10 straight frames to win 18-14.
Boston Red Sox v New York Yankees, American League Championship Series 2004
The Red Sox looked on course to be humiliated by their greatest rivals as they lost the first three games of the best-of-seven series, and trailing by a run in the ninth inning of game four it looked like it was all over for another year. But an amazing stolen base by Dave Roberts – one of the most famous in baseball history – helped him score a tying run. David Ortiz then smashed a home run for the Red Sox in extra innings to win the game, and the Boston side won the next three games in a row (thanks to another Ortiz home-run in extra innings) to make it to the World Series, where they went on to beat the St Louis Cardinals 4-0.
John Watson wins the 1983 US Grand Prix from 22nd on the grid
McLaren driver Watson and his team-mate Niki Lauda had both performance appallingly in qualifying, struggling to get the balance of the car right and starting from the back of the grid at Long Beach, California. But they finally cracked the set-up in final practice, and after a series collisions ahead of them (only half the 26-car field finished the race) Watson and Lauda climbed up to third and fourth respectively just a third of the way into the race, albeit 20 seconds off leaders Jacques Laffite and Riccardo Patrese. Laffite's tyres were deteriorating badly, however, and Patrese ran wide as he tried to overtake, letting the McLarens through to complete perhaps the most incredible 1-2 ever seen in F1.
Deportivo La Coruna v AC Milan, 2004 Champions League quarter-finals
Deportivo started well in the first leg, taking the lead at the San Siro – but it was all one-way traffic from then on as Milan ran out 4-1 winners. Depor's distant hopes were boosted early on in the return match when Walter Pandiani scored after five miutes, and despite Milan getting back into the match the Spanish side hit twice more on the break through Juan Carlos Valeron and Albert Luque and then made it 4-4 on aggregate on the stroke of half-time. Milan dominated possession after the break but could find no way through as they sought to avoid going out on the away goals rule, but substitute Fran fired a deflected fourth to complete an amazing 5-4 aggregate win for the Spanish side.
England v Australia, 1981 Ashes Test at Headingley
After Australia scored 401 in the first innings of the third Test, they seemed certain to go 2-0 up in the series after bowling England out for 174 in the second innings and enforcing the follow-on. England then lost an early wicket in their second innings to go in on the third day at 6-1.
They were 500-1 to win the Test at that point, a price so great that Australian stars Rodney Marsh and Dennis Lillee decided to pop a few quid on just in case. It was a decision which would later prove highly controversial, but didn't look like being so as England were reduced to 105-5, and then 135-7 at tea on the fourth day. Then, however, it all changed as Ian Botham started swinging at everything, getting to 145 not out and putting England into a lead of 124 at stumps – and prompting England to find a new hotel, having checked out of theirs that morning assuming that they were about to lose. England added just four more runs in the morning, but Bob Willis's bowling on the final day was equally as heroic as Botham's batting had been as he took 8-43, England winning by 18 runs. The inspired team then went on to win the Ashes.
Nick Faldo overhauls Greg Norman, final round of the 1996 Masters
Legend has it that the night before the final round at Augusta in 1996, legendary golf writer Peter Dobereiner was chatting to Greg Norman as they stood at the locker room urinals: "Well Greg," said the English hack, "not even you can f*** this one up." Norman apparently laughed heartily; he had a six-shot lead and was playing stunning golf, and despite the catalogue of final-round disasters that had dogged his career in Majors it did indeed seem that this one was in the bag. Not so: his occasional nemesis and playing partner Nick Faldo ground him down with steady golf, chipping away at the lead, and when Norman put a ball in the water on the par-3 12th it was as good as over. Faldo won his third green jacket with a final round 67, while Norman would never again mount a serious challenge for the Masters title.
Henri Cochet v Bill Tilden, 1927 Wimbledon semi-final
France's Cochet was given little hope of winning as he took on American star Tilden in the men's singles semi-final in 1920. Tilden was regarded at the time as the greatest player ever to swing a racquet, and it was no surprise when he romped through the opening two sets and took a 5-1 lead in the third. Cochet, thoroughly beaten, started going for anything and everything – but something miraculous happened as he suddenly started finding all the lines. He won six games in a row to win the third set 7-5, then won the final two sets 6-4 6-3. Almost as incredibly, Cochet had also recovered from two sets down in the quarter-final, and would do so again as he beat compatriot Jean Borotra in the final.
South Africa v Australia, one-day international 2006
The tourists batted first in the ODI in Johannesburg, and looked to be on course for a crushing victory as Ricky Ponting's 164 from 105 balls saw them record 434-4 from their 50 overs, the highest score ever seen in a one-day innings. South Africa lookedcertain to capitulate when opener Hendrik Dippenaar was bowled for a single run, but Graeme Smith and Herschelle Gibbs then took the fight to the Aussies. Smith's 90 from 56 balls and Gibbs's 175 from 111 still left South Africa 135 runs short of their target, but the rest of the side all chipped in until Mark Boucher nailed the penultimate ball for four to win the match as South Africa made it to 438-9.
- Courtesy Yahoo
Follow @timesonlinelk
comments powered by

Disqus