Home » Sports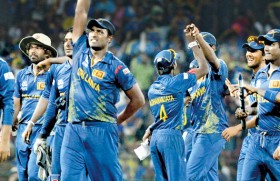 Call it the battle of the titans or whatever you like, but today's final to bring down the curtains of the ICC World Twenty20 cricket tournament will be a blockbuster. Sri Lanka elevated to the final beating two of the former winners of the T-20 title in Pakistan and defending champions England while the West [...]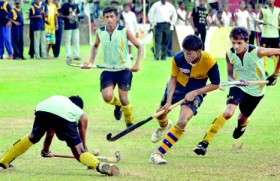 The 11th annual Blue and Gold Hockey Sevens organized by Royal College and their Hockey Club (RCHC) will be staged on October 13 and 14 at the Royal College Sports Complex. This year the tournament organizers expect over 600 participants to take part in the gala hockey extravaganza. The tournament was inaugurated in 2002 by [...]
Former cricketer turned sports administrator Upali de Silva completes 50 years in active service this month. De Silva, a former student of St. Thomas' College Matara excelled in cricket as a prominent left hand top order batsman and a left-arm fast bowler. He was instrumental in helping St. Thomas' record many wins and was a [...]
I strongly feel that if any bowler should dislodge the wicket during his follow through at the bowling side, he should be no-balled and penalized with four runs. Such actions not only deprive the batsman who is denied of any runs, but also deprives the bowler of a wicket, as such a delivery is signaled [...]
The annual Aidex Sports Festival organised by the Colombo Friend-in-Need Society (CFINS) will be held at the Wesley College Campbell Park today. The Aidex 2012 which has been held for the past 22 years is a specially organised event for the Jaipur limb uers in Sri Lanka. The organisers have already received over 400 entrees [...]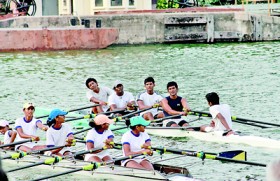 Musaeus College and Asian International School rowed ahead to claim a double each at the 1st Mora Sculling Regatta that was organized by the Rowing Crew of the University of Moratuwa on the waters of the Beira Lake recently. Musaeus College claimed their double by winning the girls under 16 and 19 overall championships. Asian [...]
Led by M.A.M. Shibly and Coached by A H M Hanafi Zahira National School, Matale beat Ajmir N.S. Ukuwela 3-2 on penalties to emerge Champions in the Matale District Inter School Boys under 15 Soccer Tournament 2012 concluded last Thursday at Bernard Aluvihare Stadium, Matale. Six teams from Vijaya College, Hindu M.V. Matale, Ajmir N.S. [...]
St Joseph's College recorded a hard fought first innings victory over Seethawaka MV in a Under 13 Sri Lanka Schools All Island game played at Darley Road. The Visitors who were put into bat were reeling at 14 for 3 wickes before a 55 run stand for the 4 th wicket between Heran Munasinghe(31) and [...]
British School in Colombo and Alethea International posted the biggest wins in the ongoing under 19 International Schools Football Championships that is now in progress at Hendry Pedris Park, Colombo 5.British School posted a resounding 10-0 win over Leighton Park, while Alethea International registered a 11-0 win also over Leighton Park. Royal Institute meanwhile registered [...]
A top score of 59 runs by C. Pradeep enabled Government Press to inflict a 61 run defeat on Kelaniya University in their Division One 30 over State Services cricket fixture at Mount Mary recently. After posting 202 runs for seven wickets, Government Press wrapped up their opponents for 141 to win by 61 runs. [...]
Seventy two teams forty boys and thirty two (32) girls are in the fray in the all island schools under 14 boys and girls hockey tournament 2012, that will get underway in Kandy from October 8th to 11th The venues for the four day tournament are Peradeniya University Ground and Asgiriya Stadium in Kandy. According [...]
Colombo International School, Colombo defeated St. Michael's College, Batticaloa by 72 points to 43 in the consolation final of the boys cager fixture of the National School Games that was played at Royal College recently. At the short whistle the Colombo school led by 31 points to 25. Niheth Rupasinghe led the way for CIS, [...]
Maliyadeva College boys and their sister school Maliyadeva girls pocketed a double at the recent under 15 All Island Schools Chess Tournament worked off at St. John's College, Nugegoda recently. In the boys under 15 segment, Maliyadeva emerged champions with 24.5 points, while Maliyadeva Balika Vidyalaya piled 26 points to claim the championship in the [...]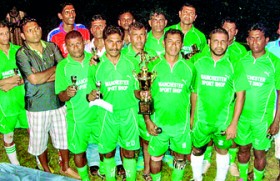 Kegalle Sports Club called correct to win the final of the 12th Annual seven-a-side over 40 soccer final conducted by the Soccer Veterans Association of Sri Lanka at Cooray Park, Colombo 6 recently. The final ended in a scoreless draw and even the penalty shootout too, failed to produce a concrete result. Cooray Park was [...]
The 2012 Clifford Cup final affords an opportunity to the defending Champions Kandy SC to get back on an even keel and to upstage their conquerors in the league segment, the Havelock. Having been on top of the local rugby tree for almost as long as one can remember, Kandy SC's downfall this season has [...]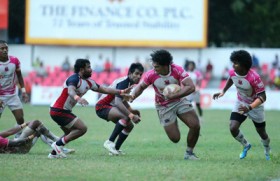 Kandy Sports Club would like to settle matters which were missed once this season. That was the League. Now they lock horns with the same opponents this time for the Clifford Cup Knock out rugby encounter which will be worked off today at Bogambara Stadium. Kick off is scheduled at 4.30 pm. Kandy always looks [...]
After conceding a 10 point lead at the end of the first quarter, Royal College led by Nipun Siriwardena turned tables on St. Benedict's to register at 68 to 53 points win in the final of the basketball segment of the National School Games played at the Reid Avenue recently. At the short whistle Royal [...]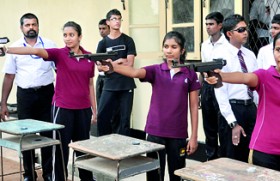 Nalanda College Colombo and Devi Balika Vidylaya earned major honours at the inaugural National Schools Shooting Championship held at the Bandaranayake Central College in Veyangoda last Friday. Nalanda and Devi Balika had the honour of being the first boys and girls schools respectively to take up shooting as a sport in Sri Lanka. Spearheaded by [...]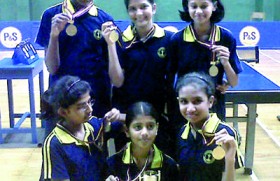 Visakha Vidyalaya Table Tennis team won the invitation schools table tennis tournament organized by Ananda Shastralaya ,Kotte.Vidyalaya they won under 12 category beating Samudradevi Vidyalaya,Nugegoda in the semi finals(5/0) and Anula Vidyalaya,Nugegoda in the finals(5/2). The team was coached by Mrs. Namal Gunasekara.
Musaeus College Colombo emerged runners-up in netball at the All-Island National School Games 2012 held at the Youth Centre in Maharagama recently. The Musaeus girls were beaten by Kalutara Vidyalaya in the final who clinched the netball championship of National School Games 2012. Earlier in the semi-final the Musaeus lasses beat Holy Family Convent Kurunegala [...]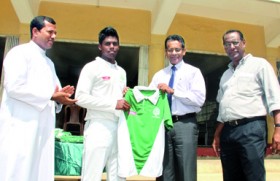 Bradley Emerson – Regional Director, Middle East, South Asia & North Africa of CIMA, presenting cricket kits to Dilan Anjalo, under 19 Cricket Captain of St. Benedict's College, Colombo. Rev. Bro. Janaka Fonseka, the Director of St. Benedict's College and Vivian Saverymuthapulle, Master-in-charge of cricket were also present at the ceremony.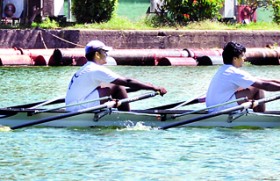 Twenty oarsmen and oarswomen will take wing on Monday, October 15 to participate in the prestigious Boat Race which will be conducted by the Universiti Teknologi of Malaysia for the third successive year. This year the Colombo University crews will be participating in this event for the third year.  In their debut year in 2010, [...]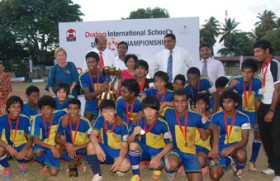 Elizabeth Moir held their nerve in a tense penalty shootout over Royal Institute, to claim the Dialog International Schools Championship after the two sides remained locked with a goal apiece, following the end of regular time action, at the Henry Pedris grounds last week. Royal Institute were lackluster from the penalty spot, failing to convert [...]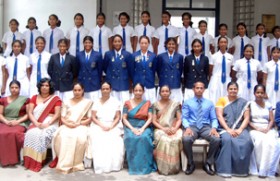 The tenth Musaeus-Ladies Regatta, a event greatly looked forward by two schools and their followers, is expected to be closely fought out at the Beira Lake on Saturday, October 13. Out of the races conducted so far Musaeus has won two while Ladies have won six with one race ending in a draw. Following are [...]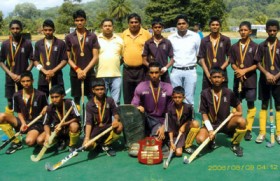 Vijaya College Matale and Musaeus College Colombo lifted the Under-19 boys and girls' hockey titles respectively at the Astro Turf in Matale. The Under-19 hockey competitions were held in connection with the All-Island Schools Games 2012. Seventeen boys' teams and 15 girls' teams qualified from the provinces with the exception of North Central and Eastern [...]