Utilizing their superior pace and power, Royal College put in a dominant performance to grind their opponents, St. Anthony's College, into the ground with a 38 (four goals, two tries)-7 (one goal) victory, at the Royal Sports Complex yesterday.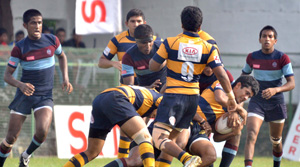 An Antonian defender tries his best to halt his Royal counterpart's charge. Pic by Amila Prabodha.
Doing the damage for Royal were winger Ijaj Bohoran, lock Wasim Bawa, lock Sachin Vihanga, center Devin de Silva and winger Nimshan Jayawardena. Meanwhile, scrum half Thilan Jayagoda, was the only one who troubled the scorers for the Antonians. Royal did not play at its lethal best during the opening half of the match, thanks in no small part to a determined Antonian defense that fought off two scrums mere meters from their try lines early on. However, Royal's speed and size were just too much for St. Anthony's to handle, and Bohoran sliced through to score in the 15th minute. Sharp shooter Rimzy Jamaldeen, who was calculating with his kicks throughout the game, making four out of six, converted successfully. Eleven minutes later, and Wasim Bawa barreled through the Antonian defence as though it was a stack of bowling pins, for Royal's second try. Once again Jamaldeen cracked a laser-guided conversion.
Nevertheless, Royal should have done more with the opportunities that followed, and seemed to be unable to find the crisp execution it frequently employs. St. Anthony's made them pay for this in the 36th minute, by working the ball deep into the Royal half before Jayagoda raced across the line. The ensuing conversion by fly half Fazlur Rahman was on the mark. That was the last whiff of a comeback St. Anthony's was going to get. Once the second half came around, the floodgates burst open in a wave of offense that buried the Antonians. It started with a try from Vihanga, continued with tries from de Silva and Jayawardena, and ended with a try from Bawa. In short, it was an all-out try-fest, and the Antonians could do little more than rest their hands on their hips and stare at the ground in despondency.