The Kandy leg of the Carlton Super Sevens Sri Lanka was worked off with no upsets whatever at the end of the first day. The front runners were Jaffna Challengers, Sabaragamuwa Stallions and Western Warriors from Group B.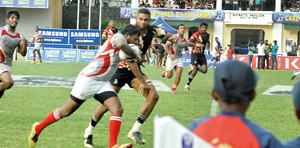 Action from the Carlton Rugby Sevens in Bogambara yesterday. - Pic Shane Seneviratne.
North Western Blacks topped the table from Group A with Southern Sharks and Central Kings in close attendance. The rugby on display was fast, furious, and above all, clean. Only two yellow cards were handed out and that testifies to the brand of rugby played.
The foreign players – particularly the Fijians Nasoni Roko and Taniela Rawaga were quite awesome. Almost all the facets of Sevens Rugby were on display in ample measure. The side step, the dummy, the swerve, the change of direction and the acceleration that one saw left one breathless.
The foreigners by and large were not one dimensional. They attacked and defended with equal brilliance. The Fijians were good at the smother tackle. Metusela Talebula on one occasion did a beautiful chip, followed up and scored.
Today's play should see a full house and more exhilarating rugby dished out.
Results
Southern Sharks 19 bt Northern Gladiators 12; Uva Vipers 19 bt Northern Western Blacks 12; Western Warriors 40 bt Eastern Eagles 0; Central Kings 14 bt Southern Sharks 7; NW Blacks 19 bt N. Gladiators 12; Sabaragamuwa Stallions 24 bt N. Gladiators 14; Jaffna Challengers 26 bt Eastern Eagles 19; Central Kings 35 bt Uva Vipers 21; Southern Sharks 26 bt NW Blacks 14; Sabaragamuwa Stallions 42 bt Eastern Eagles 36.
Group A: North Western Blacks 8 pts; Uva Vipers, Southern Sjarks and Central Kings 7 points each.
Group B: Jaffna Challengers 9 pts; Western Warriors 7 pts; Sabaragamuwa Stallions 7 pts; NC Typhoons 5 pts.
The spot of dung in the curd
The Carlton Sevens was very well organized and Tournament Director George Simpkin and SLRFU Vice President who attended to the media's needs the whole day deserve a pat on the back. Not so an arrogant, overbearing, officious and domineering official who threw his not inconsiderable weight around. A little learning, said Alexander Pope, is a dangerous thing. This bumptious official would do well to heed the words of Bard Avon:.
"Man, poor man, direst in little brief authority….
Most ignorant of what he's most assured" Though late, a crash course in media relations would be welcome.