Sri Lanka Cricket, which is reportedly still over US$ 70 million (Rs.9.1 billion) in debt, is about to venture into another Rs. 76 million expenditure on infrastructure development for the R. Premadasa Stadium, the Pallekele Stadium and the Hambantota Stadium.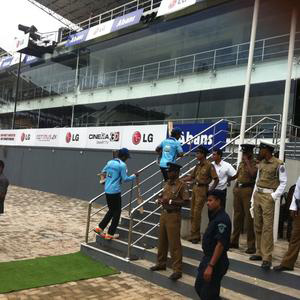 The Pallekele Stadium is billed for two new player dressing rooms with proper access to these dressing rooms.
After ICC officials had made inspections of the three facilities from 1st to 5th November 2011, they had pointed out some requirements to the SLC and now they are in the process of calling tenders for the revamp.
However what some insiders say is that it was only a year ago that the ICC Cricket World Cup – a bigger event than the T-20 World Championship- was held at these venues and only a very few matches have been played since.
The Pallekele Stadium is billed for two new player dressing rooms with proper access to these dressing rooms, ICC stores facilities and a host of other repairs costing Rs.12,718,315.00. At the Hambantota Stadium, a sum of Rs. 2,178,000.00 will be spent on a PVC coated mesh around the stadium, while a guard room at the VIP entrance will cost Rs. 1,100,000. The total cost of work there will come to Rs. 6,361,300.00.
The improvements to the R. Premadasa Stadium will include the installation of elevators to Block 'A' and 'B', costing Rs. 11 million rupees, and Rs. 10,340,000 on ground improvement. The total expenditure for the Premadasa Stadium will be Rs. 56,997,343.39.
The ICC-stipulated upgrading will cost the rupee hungry cricket board a total sum of Rs. 76,076,958.39.The once cash-rich cricket organisation hit rock bottom in the aftermath of the 2011 Cricket World Cup and at one stage could not even honour the contract agreements of its national cricketers. The ICC intervened and paid a portion of the players' payments while the SLC completed its obligations only a few weeks ago.
Initially the three stadiums overshot their projected budget of Rs. 3.3 billion and ended up at the huge figure of Rs. 7.18 billion where the major contractor was the Ports Authority. Thereafter even to complete the players' payments SLC obtained loans from local banks.
The Committee on Public Enterprises (COPE) was very critical on the construction affairs of the three stadiums and directed the officials of the SLC to submit a detailed report on the price escalation and all other relevant information concerning these three venues.