The lasses from Dhammapla Balika Maha Vidyalaya , Beliatta won the Southern Province inter school Elle championships defeating Muruthawela Kanishta Vidyalaya Walasmulla by 3 points to 2 in the finals at the Uyanwatta Stadium Matara.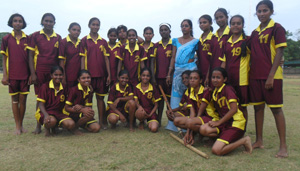 Southern Province schools under 19 Elle champions Dhammapala BMV Beliatta with coach cum teacher in charge Teeka Bandaranyaka
The Southern Province schools Elle championship was held with the participation of 33 schools from the Galle, Matara and Hambantota districts. Maramba Maha Vidyalaya beat Dudley Senanayake Maha Vidyalaya, Dehigaspe by 4 points to 3 to take third spot and qualify for the All Island Inter School Elle Championships scheduled to be held in September.
The Dhammapala BMV team led by D M B Piumi Wathsala comprised of E. Chalani Sewwandika, W K Sandya Kumari, A N Sumanthi Dewduni, R Iresha Maduwanthi, G G Himasha Kavindi, L J P Sajini Dilanga, W M Thashmila Kumari, T B Navoda Sandeepani, A Jayani Sandunika, P H Pavani Bhagya, D Nethma Geshani, P Chathuri Navodya, W P Lakshan Harshika, D T Navoda Samaraweera, S A Nadeesha Madushani, P H Ganesha Chamini, E A Nikeshala Dilhari, G Madushika Janali and E S Niruni Hansani.
The team is coached by teacher in charge Teeka Bandaranayaka.