High Tea at the Hilton has been revamped with strudels being introduced into an already impressive selection at the Thorana Lounge High Tea Buffet. Guest chef, Michael Bernhard from Austria enthralled guests with his 'strudel moves' (justifiably named as one has to see the man rolling out the dough to believe it).
His personal favourite is hot apple strudel (Apfelstrudel) served with vanilla ice cream, a delicacy he describes as 'unbeatable'. The strudels themselves are delicate bites of thin, layered buttery pastry with a sweet or savoury filling that you can choose from. Beerentopfenstrudel, a beer infused cheese strudel; Milchrahmstrudel, a succulent milk and cream strudel and Kirchenstrudel, a cherry strudel are all part of the range available.
Chef Bernhard's arrival and the scrumptious strudel promotion are part of Hilton Colombo's 25th Anniversary celebrations. Look forward to more such promotions at their other flagship restaurants.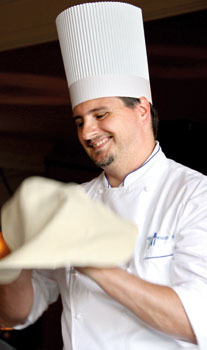 Chef Michael Bernhard shows off his skills