State banks, according to their annual reports, make a healthy profit every year. They run smoothly without burdening the treasury and credit their profit to the government consolidated fund annually while providing necessary financial assistances to the development of the country.
However, the People's Bank's bad debts and the non-performing loans of the Bank of Ceylon have increased to Rs.170 billion during the past ten years. This was reported by the media last week under the headline of 'state banks in debt crises'. According to an editorial of a Sinhala daily the Ceylon Petroleum Corporation has to pay Rs. 300 billion to the Bank of Ceylon and the People's Bank.
Meanwhile, some government owned institutions have defaulted in their payment to the CPC. It is difficult to understand why the authorities concerned do not take prompt action regarding this issue since the Bank of Ceylon and People's Bank constitute the heart of our economy. If this sad state of affairs continues who will take the responsibility of bad debts in the state banks?
On the other hand the recent controversial share market deal between the NSB and The Finance Company has badly affected the reputation of the bank and also created a doubt among the general public regarding the stability of state banks. Although, people receive negative return over their money deposited in state banks they are compelled to do so because of the government guarantee.
Some politicians who are notorious for corruption, bribery and misuse of power put the blame on the management of the banks when state institutions fall into this present situation due to their fault. Sometimes officials of state-owned enterprises have to follow the instructions of the chairman or secretaries of the ministries who are appointed by the president or ministers.
This has become a usual practice of every government that came to power after 1972. The powerful independent Public Service Commission was abolished that same year. State banks have to follow government polices and instructions while doing banking within the highly competitive banking environment.
The Ceylon Bank Employees' Union should be alert because what is happening is not good for state banks. They have to follow in the footsteps of their past leaders who bravely stood not only for the employees' rights but also to save state banks.
W.G.Chandrapala Via email
Vigilantes will rule in a land without a backbone
Dr. Mrs. Mareena Thaha Reffai writes that ordinary persons are taking the law into their hands these days (Sunday Times, May 6, 2012). The writer says we should be patient, respect the law, and ensure that justice prevails.
Unfortunately, most people don't appear to believe that law and justice prevails in this country. They don't think that complaints to the Police serve any purpose. No doubt, law and order should be the "backbone" of a country. However, we may well ask whether this country has, infact, a backbone.
It is out of desperation, and frustration with those who wield the law but take no action, that people are taking the law into their hands. Where all this will lead to is anyone's guess.
S. Wanniatchi, Colombo 5
Elders in dire need of a health insurance scheme
The NGO Forum on Ageing (NFOA) was established in 1999, the UN Year of the Older Person, and is registered with the Ministry of Social Services. As a founder member of the forum, I have endeavoured, without success so far, to interest private sector insurance companies supporting the health sector under their corporate social responsibility (CSR) programmes, to devise a Special Limited Health Scheme for Elders.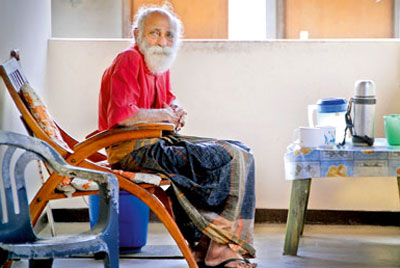 The state should be doing more for the elderly. (File pic of an elders' home)
This is for those elders who have no insurance, no income, no pension to help them enjoy basic health to the end of their lives. These people have contributed to the community in their years before retirement.
What I propose is a scheme for indigent elders that provides a small sum of money monthly as insurance support for their daily medication, and a reasonably larger sum annually for them to enjoy medical services, including hospitalisation for a serious illness.
I wrote to seven such companies, and received a reply from only one, the Sri Lanka Insurance Association. The SLIA president informed me that the industry is looking into insurance-cum-pension relief solutions for the ageing population. I hope this solution will become a reality soon, for the sake of the elders.
As I wrote to companies that have had media publicity, I feel I should inform the media of my proposed scheme, which would cost these insurance companies peanuts if they pooled even a part of their resources in a combined effort to support a worthy cause.
Manel Abeysekera, NGO Forum on Ageing member
Some thoughts on fragmenting of coconut lands
Coconut lands in excess of four hectares were outside the Land Fragmentation Act (No. 20) of 2005. We understand that this limit is to be reduced to two hectares, the rationale being better conservation of coconut lands.
This, however, is not the best procedure for maximising or making best use of coconut lands. For example, a piece of coconut land over two hectares in an urban area is a waste of a valuable resource.
In enacting land legislation, we should bear in mind that land is the platform for all activities. Compromising land use should be done with caution, and not to meet "ad hoc" solutions.
Not all coconut lands are in demand for higher (or alternative) use. Such demand is only for coconut lands close to markets, bus routes, schools, bazaars, and so on. In demand for other uses than coconut cultivation are lands in urban areas; suburban areas; areas under suburban or urban influence, and easily accessed rural areas with reasonable infrastructure.
The following guidelines are suggested in the fragmenting of coconut lands:
a). Urban lands – fragmentation subject to urban regulations
b.) Suburban lands – minimum plot size, 25 perches
c.) Lands in areas under suburban/urban influence (i.e. lands five to 15 kilometres from towns) – minimum plot size, 35 perches
d.) Rural lands – 45 perches
Residential users of lands thus fragmented would have space to plant between six and 12 coconut trees (with the exception of urban land). There will also be space for home gardens. Coconut trees planted in residential plots are known to yield up to double the normal yield of trees on coconut lands. Also, they do not require artificial fertiliser.
While population grows, land does not grow. We should not count only on nuts, as envisaged in the Land Fragmentations Act.
D. C. Sosa, Incorporated Valuer