The Fab: If 5-Stars and fashion cafes enticed, financial frugality has resurrected timeless favourites.
The Fab was once the most glamorous cafe. It's perhaps no longer where "to be seen." But that's precisely why it's so deliciously homely.
No parade of posh cars outside. The traffic is inside. Regulars coming-coming-coming: fresh cakes going-going-going. Spot actors, cricketers etc queuing beside "normal" people, unless high-profile politicos and entourage cram the place like a cream bun.
Crowds cluster from dawn. Refreshing change from those vacantly gaping luxury cafes. And a refreshing product: tremendous turnover ensures you aren't fobbed off desiccated remnants 4-days-old. Fab's lamprais (authentically prepared in pots and luxuriously dark-hued) vanish by midday- even the veg option!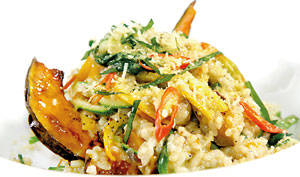 Vegetarian risotto at UK
Cakes and pastries are constantly replenished. With short-eats from Rs 50, demand is understandably phenomenal. Besides classics, The Fab generates novelties like coriander & fish pastry and devilled stuffed chilli. Pastries aren't different shapes, same stuffing (as often the case). Fillings vary and fried items don't exude oil. Chinese rolls are extremely creamy, but customers want heavy-and-value-for-money. I prefer the flimsier puffs and samosas rich with cashews, cumin and raisins.
When kades are often pricier, how does The Fab afford dignified portions at Rs 50? I'm told because it's a mass product.
Now, "mass product" conjures unsavoury connotations. However, no 5-Star can challenge Fab's short-eats. And at a blind-tasting one wouldn't distinguish a 5-Star cake from a "mass-produced" Fab creation. Justifiably, The Fab received the "Best Bakery Award" (2009-11).
Furthermore, for the price of a cake slice at a chichi café you can buy a whole Fab cake. Amidst varietal offerings, brownies are dual-typed. "Chef's Special" brownie, weaving three kinds of chocolate including Swiss dark Carma chocolate, is decadence incarnate. It's sumptuous. It's enormous. It's Rs 240! I'd rather the petite alternative at Rs 150, which might seem less glamorous but is crumble-at-touch, dutifully dark and cashew-encrusted. I wish the crust of the award-winning pastry chef's tarts (peach & almond) were also crumble-at-touch, but the custard, not stupidly sweet, impresses.
Coffee cake is wonderful. True, it's cream-craven. But flay it of cream and salvage sponge more tender and coffeed than pricier, eggier, fancier homemade counterparts. If society's cream doesn't do cream, try date cake or Rs 100-cupcakes. Éclairs have a regular following despite all that cream, whilst sugar smothers the coffee-rum slice's punch. However, traditional homemade rich-cake is lavishly liquored. Await imminently-launching zingy lemon cake and filled cupcakes. Wish they'd introduce sugarless iced coffees! And, low-sugar options. The "People's Pastry" can't be low-calorie? But precisely popular institutions like The Fab could change perceptions and trigger healthier trends.
UK: No visa required for UK. Em, Urban Kitchen. Won't tax your Visa Card overly either. When I spot "66" on the Burger counter, it excites. Then I'm told that's the item number- the burger costs Rs 490. At those prices I'd go somewhere more chic. Except, they don't rival UK's portions, Manger Dilshan smiles. I'm unconvinced. He assures their Margarita pizza at Rs 790 is Colombo's cheapest. Perhaps Colombo's cheapest wood-fired Margarita. Certain 5-Star Margaritas are similarly priced: admittedly they are much smaller, but they don't sweat grease.
"We target people who can't afford 5-Stars and luxury cafes so they too can experience dining out," says the dynamic Hilton-trained manager. Multifarious offerings on his new menu sprawl like the venue. Chef Azmi from Dubai's Shangri-La customises international dishes to the local palate. Falafel is overly flavoured, I remark. But that's what renders it palatable to locals, I'm told. Penne, at least, is for-once-in-Colombo al dente, if in curry-like, not quite Italian sauces. But that's what renders it palatable to Lankans! I keep missing the point. Nevertheless, one item chef needn't tamper/temper with is Rice & Curry. The vegetarian platter with six curries is an admirably low Rs 290, with non-veg just marginally more. Here's where to lunch in the crunch!
This isn't "fou-fou" food. It's about being substantial and savoury. Salads, curiously, are steepest because for the health-conscious elite, Dilshan reveals. Otherwise, kiddies can eat for Rs 250, Affagato is Rs 210 (hotels charge Rs 750) and Italian Lavazza frappes are Rs 190 (local Hansa costs more at certain coffeehouses). When Lavazza shakes with French Monin sauces you get FCUK- French Connection UK (designer brand).
New Saraswati Café: Sitting on Sea Street, opposite the now rather famous Sri Suryas, NSC is by the same family. However, they clarify they target "the lower middle-class." But affordable doesn't mean mediocre and their style of cuisine brings all sorts. This is Sri Lankan Tamil cuisine, as opposed to the South Indian fare across the street. If Suryas manages those sleek dosas, dainty idlis and fancy dishes, at NSC expect chunky vadais, standard dosas (no variations on the dosa theme), fat idlis and strings-hoppers like saucers. NSC is simple, tasty, hygienic and won't break your bank balance. Time to put your mouth where your money is!
Machang: Sri Lankan cuisine chain specifically for locals. It's affordable, decent Lankan cuisine with one mess usefully near the parliament- just in case the common man alone hasn't been recession-struck and ministers too seek where to munch in the crunch.
Taksheela: Local fast-food chain expanding at a rate en route from Colombo to Katunayake. Rate (price): competitive. Rate (our rating): more flavourful than many Colombo counterparts, even if somewhat greasy. Otherwise, there is a little traditional canteen just after the airport, I can't quite recall the name- if it had one, which has wood and thatch and clay pots simmering with traditional lunch buffets for under Rs. 200. If you can spot it, a fun kade-style experience that won't cost. Except for the fuel, this little eatery being in Katunayake.