Cheynelle Mendis is a pixie of a designer in a strappy yellow dress and sandals and she is all smiles as she talks about her life living the dream in New York City. As a designer for MAS Design Inc New York, she lives and commutes to work from Manhattan, enough to make any girl green with envy.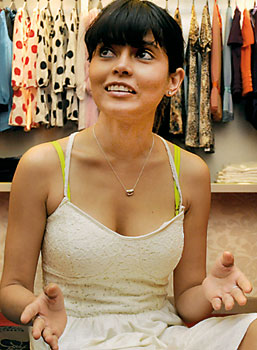 Cheynelle: Living her dream. Pic by Saman Kariyawasam
Fashion design was not something Cheynelle stumbled upon. From a small age, she knew what she wanted to be. Her grandmother Barbara, a dressmaker, was her inspiration.
Born in Dubai, Cheynelle and her family moved back to Sri Lanka when she was four years old and from then on she lived in the bosom of her family, most often with her grandmother. "I used to watch her design and sew and eventually when I got a little older, I would help her. Growing up in that environment, you could say it was no surprise to anyone when I decided to become a fashion designer," she says with a laugh.
She schooled at Alethea International, and found it to be a great place to nurture her talent. For her A Levels she chose her subjects with purpose. Chemistry, for a more in-depth knowledge on textiles and dying chemicals ("You'd be surprised how useful that turned out to be," she adds), Business Studies for obvious reasons, and Computer Science-"For no real reason at all!" she grins.
"My parents were always very supportive," she adds. "And of course, my grandmother was always behind me one hundred percent."
Graduating from Alethea, she took up a diploma in Fashion Design at the Lanka Institute of Fashion Technology (LIFT) in 2004. Completing the one year diploma, she won a scholarship for a two year advanced diploma. During her time at LIFT, she took part in the Designer of the Year in 2005, becoming a finalist.
Her first choice of employment was what she calls the ideal place-MAS Holdings. She recalls that interview with glee. "They put me in this freezing room, and told me to design a lingerie piece for Valentine's Day. I didn't know anything about designing lingerie!" she rolls her eyes. "But thankfully, I just had to sketch it out. I called it Bitten by the Lovebug.
I guess they were impressed, because I got the job." Life at MAS turned out to be an eye-opener. Cheynelle began to discover that designing lingerie was not as simple as she thought it would be. "There is so much detail and work that goes into designing lingerie," she explains. "And you've got to think about comfort, and durability. Say we're designing a bra-it has to be cut and sewn in a certain way, for there to be support, and it's got to be comfortable and make the wearer feel good at the same time."
MAS in return was not blind to the talents of their young designer. They offered her an internship at their New York office, working in close proximity with their main customer-Victoria's Secret. "New York was a change," she smiles at the understatement. "Like I went there, and I was like, 'huh, what's the big deal about New York anyway?' But then after a while, you tune into it. It's an amazing, amazing city. The energy there-you can almost touch it. And after a while, it grows on you. There's something in the New York air that doesn't let you fall asleep."
Lucky for her, New York embraced her in return. MAS offered her the chance to keep working at the NY office, and she grabbed the opportunity, like any designer would. To be working in one of the world's fashion capitals is an experience unlike any other, she says. "The crazy outfits on the streets, everyday wear..it's incredible."
An average day of work is unconventional to say the least. From meeting with clients to 'emergency panty download' meetings (an underwear crisis, in normal speak), it's a challenge every day, says Cheynelle. But its clearly one she relishes.
Her time there is undecided. She'd love to stay on, but she also wants to come back to Sri Lanka and start her own label. Having taken part in an ethical fashion show, she's got a bright idea for a lingerie line much different from others. But she knows what she's got is rare, and will breathe it all in while she can. "Right now, I'm just enjoying New York. It's the chance of a lifetime," she says.