The Brandix Group recently signed a Memorandum of Understanding (MoU) with the University of Colombo, its fourth such initiative with local campuses'. Under this, Brandix will support undergraduates of the university's Faculty of Management and Finance, focusing on the latter's Department of Human Resources Management, with a view to developing skills and knowledge that will benefit the apparel industry and facilitate career advancement, according to a company press release.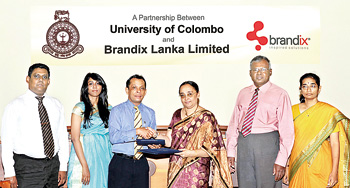 Picture shows Colombo University Vice Chancellor Prof. Kshanika Hirimburegama (3rd right) and Brandix Group Chief People Officer Ishan Dantanarayana exchange the agreement in the presence of (from left) Prof. H D Karunaratne - Dean, Faculty of Management& Finance, Ashanthi Fernando, Head of Group HR Operations at Brandix, T L R Silva - Acting Registrar and Dr. Pavithra Kailasapathy - Head, Department of Human Resources Management of the University of Colombo.
Speaking at the signing of the MoU at the Senate Hall at College House, Vice Chancellor of the Colombo University, Professor Kshanika Hirimburegama described the partnership as a "win-win-win" for the institution, the students and the country. "We would like to promote public-private partnerships of this nature as part of the globalisation of the University of Colombo," she said, pointing out that the university was already ranked 8th in South Asia.
Ishan Dantanarayana, Chief People Officer of the Brandix Group, said Brandix has grown into a global company with its expansion into India and Bangladesh and its offices in Europe and the USA. "Anyone joining Brandix gets a global perspective," he said, adding "we look forward to providing opportunities for undergraduate internships and sponsorships."
He said one of the first programmes to benefit students of the university would be a Competency Development Programme to be launched by Brandix shortly. Under the terms of the MoU between the two organisations, the University of Colombo will provide opportunities for Brandix to interview undergraduates and provide training to selected candidates; for managers from the Brandix Group to conduct guest lectures at the Faculty on topics of relevance; and for students and lecturers to participate in training programmes conducted by Brandix.