Colombo-based WSO2, a 'middleware' (software that connects computer programmes) production firm provides comprehensive solutions for five leading blue chip business enterprises in Sri Lanka to improve their business productivity with innovation and visio, senior company officials said. WSO2 signed up with Sri Lanka's leading companies and agencies including Brandix, Dialog Axiata, ICTA, John Keells Holdings and ODEL to meet their requirements.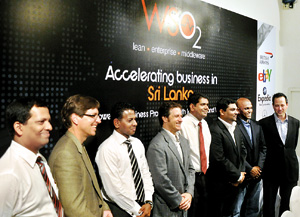 Officials of WSO2 at the briefing
Blue-chip companies signed up to help address top IT challenges with WSO2 integrated middleware platform, said Dr. Sanjiva Weerawarana, WSO2 founder and CEO at a press conference in Colombo last week. He revealed that his company has introduced open source Service Orient Application (SOA) platforms eliminating the challenges of managing various heterogeneous systems. ICTA's e-Local Government Project has been benefitted with middleware solutions enabling citizen-friendly delivery of services and increasing efficiency and effectiveness of governance.
Recently ODEL, Sri Lanka's largest department store, enhanced the shopper's experience by giving customers a mobile express checkout alternative. Now customers with five or fewer items can bypass the lines at the cashiers' point of sales (POS) terminals, walk up to one of the many ODEL salespersons with the WSO2 mobile POS solution on their iPod Touch devices, and pay by credit card, according to Thilanka Kiriporuwa, Head of Human Resources and Operations, ODEL.
WSO2 co-founder Paul Fremantle pointed out WSO2 Inc is different to most software companies in Sri Lanka in that everything is open not only for professionals in the company, but also to the whole world. "There are no business secrets or Intellectual Properties for codes that are written as solutions for numerous problems in this open world. You can see the codes they write on the same day through its web site and you can download them free. This is how an open source software company which is not very common in the industry works," he said.
Ramesh Shanmuganathan, Executive Vice President of John Keells Holdings, noted that the integration of SAP ERP with POS system and online store, has resulted in reducing the company's operating costs and enhancing customer experience. Dialog Axiata has been provided with the WSO2 Platform as an integration platform and a Master Data Management solution to connect legacy systems, said Anthony Rodrigo, Group Chief Information Officer, Dialog Axiata.