Pipunika Vimanthi Silva and Nipun Kavishka Silva, a brother-sister combination and students of De Mazenod College, Kandana, were winners in the computer science category at a recent international IT competition in the United States.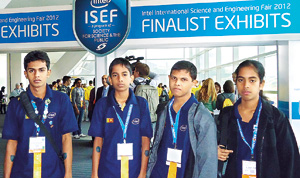 Picture shows from left - Chathura Saman Kumara, Nipun Kavishka Silva, Maleen Wijeyaratne and Pipunika Vimanthi Silva.
They secured US$400 for each team member from the IEEE Computer Society for their project entitled 'NP System' – a computer program for blind and visually impaired people at this year's Intel International Science and Engineering Fair, a program of Society for Science and the Public.
The NP System is a software programme that assists blind and visually impaired individuals to use computers by providing voice instructions. The programme can assist with a variety of tasks such as guiding the user through the basic functions of a computer including sending an email, crafting a word document, analyzing images and providing verbal descriptions and responding to audio commands by the user, according to an Intel media release.
The winning team was accompanied by Joseph Lakshman Geramunu Nonis, a teacher from DeMazenod College and also included two other Lankan students – Chathura Saman Kumara from Pinnawala Central College, Rambukkana and Maleen Wijeyaratne from Maliyadeva College, Kurunegala, representing Sri Lanka after winning the Sri Lankan Science and Engineering Fair organized by the Ministry of Education, National Science Foundation, Institution of Engineers Sri Lanka and Intel Sri Lanka, last December.
"I congratulate Pipunika and Nipun for competing in an international arena with a large number of competitors from around the world and emerging victorious. Their project will no doubt be an innovative addition to the field of NP Systems, and also be a great innovation for the blind and visually impaired," noted Indika de Zoysa, Country Manager for Intel Sri Lanka.
This year, more than 1,500 young scientists were chosen to compete in the Intel International Science and Engineering Fair. They were selected from 446 affiliate fairs in approximately 70 countries, regions and territories.