A new float aerodrome and air corridor at Dandugam Oya, Jaela was commissioned by Economic Development Minister Basil Rajapaksa this week further boosting tourism and providing a solution to frequent flood threats to the area.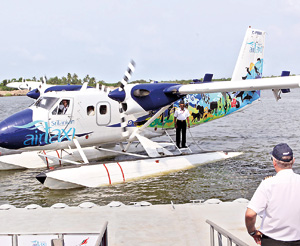 The new aerodrome
The Minister said that this would open a new chapter in the country's tourism with the SriLankan Airlines air taxi service operating from the scenic surroundings at Dandugam Oya, Seeduwa thereby helping infrastructure development in the Katana and Ja-ela electorates for the benefit of people there. It would also open for them new employment opportunities, he said in comments that were released to the media by his office.
Among those present were Civil Aviation Minister Priyankara Jayaratna, Social Services Minister Felix Perera and Gampaha District Parliamentarian Sudarshani Fernandopulle. The Minister recalled that a year ago it was proposed to construct the aerodrome at Negombo Lagoon but taking into account the requests the fishing community made to the President he found an alternative location for the project since it is the "duty of a people's government to pay heed to public requests".
From the float plane aerodrome Katunayake, SriLankan Airlines will operate domestic flights to approximately 14 destinations within a very short period. It would benefit both international and local travellers.
The air base has three docking bays, rest rooms, ample parking space for over 30 vehicles and a long timber pier overlooking the lake and fishing village. Travelling by float planes reduces travel time by more than 85 %, it was noted.