Pandemonium reigned at the Royal-Thomian 50 over game at the SSC Grounds yesterday with supporters of both sides indulging in fisticuffs. It all started when the clouds threatened to open out when Royal were chasing the modest victory target of 239 runs.
Officials decided to call off the game. Soon afterwards supporters of both teams entered the ground where a friendly atmosphere prevailed. All of a sudden a group of youngsters were seen engaged in an argument in the middle of the field while the players were in their respective dressing rooms due to the stoppage. In no time the situation turned into a mini battle where both parties were engaged in fisticuffs.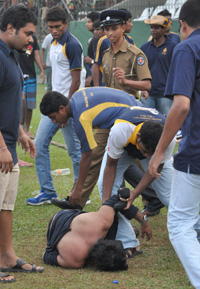 In the heat of the moment . Pic by Amila Prabodha
However senior students of both institutions were seen trying to bring about a settlement and the situation seemed to be under control. Just before the game resumed after one hour and 20 minutes and the Royal batsmen were walking in. Suddenly two spectators rushed into the ground and tried to take possession of the wickets. However the Thomian fielders reacted swiftly to safeguard the stumps.
However the security personnel escorted both sets of spectators out of the grounds. No sooner they reached the stands a section crowd from the Grandstand started throwing empty plastic bottles at them.
Some spectators even rushed up the Grandstand and a fight erupted again. More spectators rushed up to the Grandstand. This resulted in the security chasing off everybody from the Grandstand.
Even during the awards ceremony a few squabbles were seen. Soon after the presentation the Thomian team was escorted from their dressing room by the Police to the main SSC entrance.
Minutes later another fight erupted at SSC entrance where seniors were also seen engaging themselves in the fracas.
The fight became fierce and the Riot Police entered the scene. The fighting even spread to road afterwards before it simmered off with the intervention of the Police. Match revelers then dispersed with torn and tattered clothes. Finally there is a question that arose later in the day. Was there a miscalculation in the Duckworth Louis system and if it is so would there be a re-match?