S. Thomas' regained the Mustang Trophy after three years when they beat Royal by 113 runs by Duckworth/Lewis method in their 37th annual limited overs encounter played at the SSC ground in Colombo yesterday.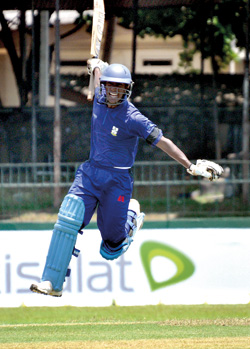 Devin Jayasinghe of S.Thomas' celebrating his century. Pic by Amila Prabodha
Confusions were at its best when Royal who were chasing a moderate target of 239 runs in 50 overs, were suddenly given a revised and unconquerable target of 259 runs in 35 overs after play was called off for one hour and twenty minutes due to bad weather and lightening. When play was halted briefly Royal were well ahead on par the Duckworth/Lewis method at 130-4 in the 29th over as they were two runs ahead of the target.
Fifteen minutes after the umpire's decided to halt the game, the light conditions improved but the ground officials had a colossal task in clearing the spectators who had invaded the ground. It took nearly an hour for the Police and security personals to clear the ground. But the match could not proceed for another twenty minutes as both teams, match officials and scorers were not aware of the revised target Royal should chase.
Later on it was officially announced by an official attached to Sri Lanka Cricket, who is authorized to calculate on revised targets, that Royal should get another staggering 129 runs in just six overs. Royal batsmen Milan Abeysekara and Poorna Aluthge decided to pad off the remaining overs to end at 145-4, leaving the Thomians with a massive win by 113 runs.
Earlier in the day Royal won the toss and invited the Thomians to take the first lease. With a fine knock of 101 off 132 balls by opener Devin Jayasinghe they reached 238 for the loss of nine wickets in 50 overs. Jayasinghe, a first year player in cricket and the regular full back of the Thomian 1st XV rugby outfit hit 11 boundaries and a six and reached his century facing 130 balls. He was well supported by skipper Sachin Peiris who hit a well deserved 53 off 68 balls. Both shared 107 runs for the third wicket. Earlier Jayasinghe put on 50 runs for the second wicket with Javed Bongso who made 15. Fast bowler Anupa Thillakaratne and Harith Samarasinghe took three wickets each while Anjana Kudahetti claimed two scalps.
For Royal opener Isuru Gunatillake top score with 41 and skipper Imal Liyanage clobbered 39 off 37 balls with six boundaries and a six. Gunatillake faced 58 deliveries and hit three boundaries during his knock. Heshan Kumarasiri who was batting well when Royal were on the lead gave away his wicket after hitting a well composed 26. Thomian opener Jayasinghe was adjudged the man-of-the-match. Royal leads the overall tally with 19 wins and with yesterday S. Thomas' recorded their 17th victory.
Scoreboard
S. Thomas' innings
Devin Jayasinghe b Thillakaratne 101
Asiri Wickramanayake c Herath b Thillakaratne 09
Javed Bongso c de Silva b Samarasinghe 15
Sachin Peiris c Pathmanadan b Kudahetti 53
Chamodh Pathirana b Kudahetti 07
Thilaksha Sumanasiri st Abesekara b Pathmanadan 05
Ramith Gunaratne c Abeysekara b Thillakaratne 01
Danush Peiris not out 09
Madushan Ravichandrakumar b Samarasinghe 08
Rishen Mathangaweera lbw b 00
Sahan Wijesinghe not out 04
Extras (4b, 21w, 1nb) 26
Total (50 overs: 9 wkts) 238
Fall-of-wickets: 1-21, 2-71, 3-178, 4-196, 5-204, 6-208, 7-213, 8-230, 9-230
Bowling: Anjana Kudahetti 9-1-54-2,
Anupa Thillakaratne 9-0-39-3, Supun
Subasinghe 5-0-19-0, Harith Samarasinghe 7-0-27-3,
Poorna Aluthge 10-0-48-0,
Devin Pathmanadan 10-1-47-1
Royal innings
Sampath de Silva retired hurt 02
Isuru Gunatillake c D Peiris b Mathangaweera 41
Supun Subasinghe c S. Peiris b Pathirana 03
Imal Liyanage c S. Peiris b Wijesinghe 39
Heshan Kumarasiri c S. Peiris b Ravichandrakumar 26
Milan Abeysekara not out 15
Poorna Aluthge not out 05
Extras (1b, 1b, 14w) 16
Total (35 overs: 4 wkts) 145
Fall-of-wickets: 1-15, 2-78, 3-116, 4-126
Bowling: Chamodh Pathirana 7-1-25-1, Danush Peiris 5-0-20-0, Sahan Wijesinghe 5-0-22-1,
Thilaksha Sumanasiri 5-0-28-0,
Rishen Mathangaweera 6-0-23-1,
Madushan Ravichandrakumar 7-1-25-1