A very senior SLC official reacted sharply refuting the Lankan skipper Mahela Jayawardene's statement that the Lankan team did not have a break between the Commonwealth Bank series in Australia and the present Asia Cup contest in Bangladesh.
Mahela in action in Australia during the Commonwealth Series.
Mahela was quoted as saying, "The team did not have a break after touring Australia and they had to fly directly to Bangladesh and the lack of rest also contributed for the poor performance of the Lankan team in the Asia cup"
The official who opted to stay anonymous for the time being said that he was well aware that the selectors had a chat with the seniors before the selections for the Asia Cup and offered to take a youthful side to the Bangladesh tournament as the Senior players had the Test tour of England close at hand. But, the seniors chose to be a part of the tour.
The official also was disappointed in the irresponsible manner in which the vice captain Angelo Mathews was included in the side. He said, "The player was injured during the tour of Australia and he missed a few games there through injury. Then why did they want him included in the side for the Asia Cup? They should also ask the physio for his views on the Mathews incident because if a player is injured, they must take a player who is fit and ready to play. An injured player is always a liability to a team that is performing".
Mathews who was injured during the Australian series was also ruled out of the Asia Cup after their game against India. He flew back home after replacement Shaminda Eranga was flown to Bangladesh.
With India losing to Bangladesh on Friday, Sri Lanka who has lost two matches still has an outside chance of entering the final if they could beat Bangladesh on Tuesday and India is beaten by Pakistan in their encounter today.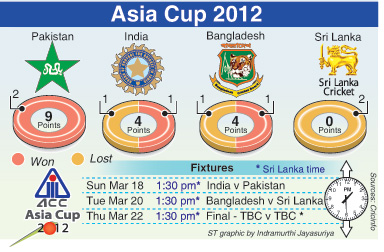 Meanwhile SLC also has invited Pakistan to host Australia in Sri Lanka when the two countries meet for a limited overs series in July this year. The two countries are billed to be engaged in a five ODI and 1 T-20 series in August-September this year.
Pakistan had not hosted any Test playing nations at home in Pakistan since the Sri Lankan players were involved in a shooting incident in Lahore in 2009. In the recent past Pakistan has used the Middle East venues of Dubai, Sharjah and Abu Dhabi for their home matches.