Sri Lanka Army girls team showed their speed and power when they grounded Sri Lanka Air Force Women outfit in the Cup final by 29-5 in the Women's inter Club Rugby Sevens which was worked off at the Royal Sports complex yesterday.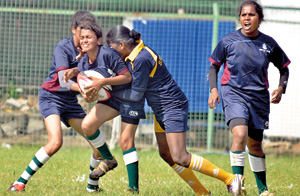 Tussel for the ball at women's rugby. Pic by Amila Prabodha
In the Plate Final Navy got the better of Army "B" 7 to nothing while Rathgama Tigress got the better of Sabaragamuwa 15 to nothing. Rathgama RFC walked away with the Shield trophy.
This tournament was conducted after a long lay off with no sponsors coming forward. In the end Sri Lanka Rugby Football Union (SLRFU) sponsored the event.
With 12 teams to lock horns and play in four groups saw a last minute pull out BY Kurunegala Rugby Football Club. The days highest points were scored by Army "B" when they scored a runaway 51 to nothing win over Matara RFC. While the closest win was registered when Sabaragamuwa RFC edged out Rathgama RFC by 5-0.
Pool A- Navy, Dambulla, Nilwala
Pool B- Army A, Berreweartsz, Tigresses
Pool C- Air Force, Sabaragamuwa, Rathgama RFC
Pool D- Army B, Matara RFC,
Pool games-
Navy beat Dambulla RFC 25-0, Army "A" beat Berreweartsz 43-0, Air Force beat Sabaragamuwa 41-0, Army "B" beat Matara 51-0, Navy beat Nilwala 33-0, Army "A" beat Rathgama Tigresses, Air Force beat Rathgama RFC 38-0, Dambulla beat Nilwala 12-0, Rathgama Tigress beat Berreweartsz 37-0, Sabaragamuwa beat Rathgama RFC 5-0
Shield Final
Rathgama RFC beat Berreweartsz 25-0
Bowl Final
Rathgama Tigress beat Sabaragamuwa 15-0
Plate Final
Navy beat Army "B" 7-0