Caltex Lubricants who are the current sponsors for Rugby Football at Club Level in the country since 1999 spending more than 450 Million threaten to pull out of the entire sporting field if the Sri Lanka Rugby Football Union (SLRFU) is going ahead with a new sponsor.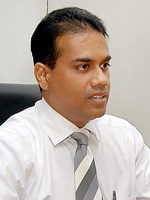 Kishu Gomes
Speaking to The Sunday Times Chief Executive of Caltex was hard and was very clear to pull out of the entire sporting field. Kishu Gomes said, "We have sponsored sports such as Indoor and Outdoor Cricket, Athletics, Motor Sports, Boxing, Volleyball and sporting events for less fortunate people".
He went on to say that our agreement with SLRFU runs deep in to 2014 and we will take necessary action if this is broken and another sponsor is brought in. We will put all these funds that investment would grow the countries economy. Kishu also said that, "If we take as a country how much percentage understand and follow the game it would be maximum of 10%. The spectators at normal club games are below 1000. Only games such as CR & FC, Navy and Kandy SC attracts a good crowd. Only a game in Kandy which is played by the home side attracts more than 7000.
"We not only have pumped in funds to the game but also spent on Sponsorship fee, Live Television coverage and Press, Gears needed for matches, branding for Grounds and Rugby yearly awards".
He ended by saying: "We came to sponsor the game when the Liquor and Tobacco companies were not allowed and the SLRFU was at a difficult situation to run the affairs".
When Sunday Times tried to Contact Asanga Seneviratne (President) and Rizly Ilyas (Secretary) of the SLRFU both refrained from giving out their comments.