England bowlers gave the side a flying start to their tour of Sri Lanka helping them record a convincing innings and 15 runs win over the Sri Lanka Board XI in the first warm up game played at the R. Premadasa Stadium.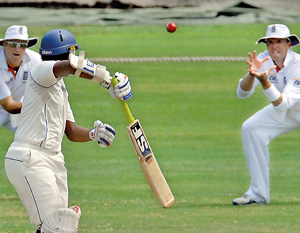 Sri Lanka Board Xl batsman Bhanuka Rajapakse is about to be swallowed up by Graeme Swann off the bowling of paceman Steven Finn for 9 runs. (pic Shantha Ratnayake)
The right arm pacie James Anderson and Steven Finn along with right arm spinner Graeme Swann ran through the home side in their second innings to bundle them out for a low score of 119. The threesome shared nine wickets between them with each taking three scalps.
It was a pathetic batting display by the local side after having failed in the first inning as they fared much worse in the second innings. They were unable to erase the deficit of just 139 runs to avoid the innings defeat.
The inning lasted just 56.4 overs and in their quest the second time they went into lunch with the score on 62 for 5 having faced just under 32 overs. If not for a brief partnership of 39 runs for the ninth wicket between Malinga Bandara and Tyrone Gamage the Sri Lanka Board XI would have been bundled out before reaching the three figure mark.
It was sad to see that some of the talented players who had been in the forefront in the domestic tournament throwing away the opportunity to showcase themselves at this level of the game.
It was opener Ashen Silva who made some impression in the first inning but failed the second time while batsmen in the caliber of experience players like skipper Prasanna Jayawardena failed to make any impression at all along with Dimuth Karunaratne and Bhanuka Rajapakse who are capable of making big scores but lacked patience.
Even for England it was Alistair Cook who saved the side while the others failed. The left hander made a dogged inning of 163 which helped the visitors make a score of 303 for 8 at the end of the second day at which they declared when play began on the final day yesterday.
Cook's 293 ball knock comprised 11 boundaries and was involved in two valuable partnerships first with opening partner Andrew Strauss adding 89 and then another 69 for the third wicket with Kevin Pietersen.
England will play their second warm up against the Sri Lanka Development XI from March 20 to 22 at the SSC ground before confronting Sri Lanka in the first of two Test matches due to be played from March 26 to 30 at the Galle International Stadium.

Sri Lanka Board XI 2nd innings
Sri Lanka Board XI 1st innings - 169 (Ashen Silva 66, Sachithra Serasinghe 31, Roshen Silva 21: Monty Panesar 5 for 37, James Anderson 4 for 19) England 1st innings - 303 for 8 declared (Andrew Strauss 40, Kevin Pietersen 39, Johnathan Trott 16, Alastair Cook 163 n.o.: Malinga Bandara 3 for 58, Sachitra Serasinghe 2 for 24, Dilruwan Perera 2 for 84)
Ashen Silva c Bopara b Anderson 00
Dimuth Karunaratne b Swann 31
Bhanuka Rajapakse c Swann b Finn 09
Roshen Silva c Strauss b Anderson 12
Prasanna Jayawardena c Anderson b Finn 00
Sachitra Serasinghe c Cook b Swann 05
Dilruwan Perera c Prior b Finn 06
Kanishka Elvitigala c Prior b Swann 00
Malinga Bandara not out 28
Tyrone Gamage lbw b Panesar 19
Nilanka Premaratne lbw b Anderson 00
Extra (lb9) 09
Total (all out: 56.4 overs) 119
Fall of wickets – 1-0, 2-25, 3-51, 4-51, 5-62, 6-62, 7-63, 8-79, 9-118
Bowling –
James Anderson 11.4-5-21-3, Steven Finn 13-5-24-3, Monty Panesar 18-8-32-1, Graeme Swann 14-5-33-3.Bowlers give England convincing win