Ishara Samadhi Hapuarachchi (21) could literally dance before she could walk, as her mother fondly likes to recollect when asked how she noticed her daughter's talent for dancing.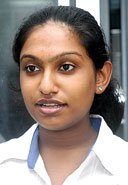 Ishara Samadhi Hapuarachchi
For Ishara, dance is her life and she has sustained a passion for Bharatha Natyam that began at 3 1/5 years of age to this day due to sheer handwork and commitment engaging in practices almost on a daily basis but also making sure not to neglect her studies and other extracurricular activities while studying at her alma mater Vishaka Vidyalaya, Colombo.
At 14 she became the youngest vishradha and has since travelled overseas to perform in student exchange programmes from her school. "One of my mother's friends had seen me dancing as a little girl and suggested that I be enrolled in a dancing class. It was due to her persuasion that my mother started me on Bharata Natyam classes.
Her dance master since then has been Natya Booshana Sri Jayantha Karunasekera who has guided her throughout. "Even my guru had been apprehensive at first when my mother took me for class as I was very young but since he saw that I had a natural ability for dance, he had no hesitation to enroll me, "she said.
Ishara's has managed a fine balance between her passion for dance with her school work and has gained entrance to the Aesthetic Studies faculty at the University of Colombo where she will pursue her higher education.
She is also about to start her own dance school at her home where she hopes to train students in Bharata Natyam. "There is a lot of interest in Indian dancing and I would like to be an exponent of this dance form,' she added.