They're smart, vivacious and confident. They shrug off the magnitude of what they've achieved. They know they've made it, but are still incredibly passionate about what they do. They are women in a man's world. This March, a month dedicated to women, we speak to Poornima Wijesiri and Dushanthie Chandrasekara, the country's first two female motor vehicle assessors.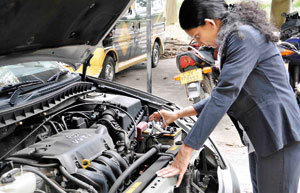 Girls at work: Dushanthie (above) and (below) Poornima. Pix by Susantha Liyanawatte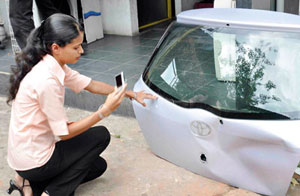 These young ladies, still in their early twenties, work at the Janashakthi Full Option centre in Staples Street in Colombo. As motor vehicle assessors, they process claims and perform on-site examinations, working with garage mechanics and negotiating with third parties in the course of their work.
They work the front office as well, dealing with clients who can occasionally throw a bender their way. After all, it's a traditional 'man's job'. "It can be tough," Poornima grins, "I've been told by 'concerned' clients that banks have a lot of openings these days, why don't you go and see what they can offer a young lady like you?''At the same time, there are those who afford them the respect they deserve. This courtesy can come from surprising quarters. "A lot of people are very helpful," they tell us. "When we go to garages for inspections, we're offered full cooperation and people always help us out."
It's a job they both clearly love. Dushanthie grew up around vehicles, with her father being a garage owner. Growing up in Kelaniya and studying at Sirimavo Bandaranaike Vidyalaya, she learnt the intricacies of motor mechanics at an early age. It is this expertise and the knowledge gained following a two year course as an automobile mechanic at the Dimo Automobile Training School that she brings into her field of work.
As Full Options Survey Department manager, Mahendra Deva quips, "she's not afraid to get under a vehicle and perform inspections even guys are reluctant to do!" She's well qualified you may think, but that's not enough for her-Dushanthie's also studying for an LLB at the Open University and for a diploma as an automobile mechanic at City & Guilds.
Poornima is the quieter of the two, but no less smart. She holds a Higher National Diploma in Engineering from the Advanced Technological Institute in Mattakkuliya, and she's also studying at the Open University. Originally from Mawanella, having studied at St. Joseph's College, Kegalle, Poornima moved to Colombo to further her education and expand her horizons.
These young ladies are committed to their work. They do it because they truly love it. More than taking on male territory, they're impressive because of what they do and how they do it. They're giving it their all.