It is perhaps inevitable that Indians living abroad would feel a pang at the passing of the spring festival of Holi. Back home, particularly in North India, the streets would be emptied as everyone took the day off to celebrate.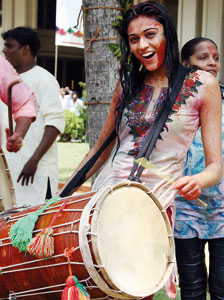 Pix by Indika Handuwala
Flinging handfuls of vibrant colours at each other, they'd evoke scenes of Krishna and Radha similarly at play.
(But to be entirely truthful, the unwary could equally find themselves plastered with mud or eggs by unkind players.) Big barrels of coloured water would be drained as the 'fight' was stepped up a notch.
So for Indians living in Sri Lanka, the party at the Taj was not to be missed. The big lawn out front was covered in revellers all of whom were in a raucous mood.
As the Holi classic 'Rang Barse' (sung by a much younger incarnation of Amitabh Bachchan) rang out, guests danced and sang under a giant improvised shower.
Children and adults alike ran around, abandoning strategy for all out attacks, until eventually exhausted, they sat down to a hearty buffet lunch.
With everyone around coloured in vibrant shades of pink, orange, green and yellow, and obviously the happier for it, it was a day where one felt not too far from home.