Sri Lanka's first ever international theatre festival, 'Colombo International Theatre Festival 2012' is ready to be opened from March 26 with theatrical performances from Germany, Iran, Pakistan, India, Australia, Indonesia and Sri Lanka.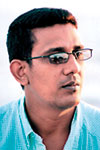 M. Safeer
Organised by Inter Act Art which is involved in various cultural and art work for the last 20 years under the leadership of dramatist M. Safeer who worked tirelessly to present an international theatre experience to Sri Lankan theatre lovers, the festival include a theatrical performances, talks and workshops conducted by internationally renowned theatre artistes.
The festival will be participated by DIN A 13 Tanzcompany - (Germany ) Gustavo Fijalkow, Sayah Theatre Group - Iran (Mehdi Mazoor), Mass Foundation - Pakistan (Aamir Nawaz), Anant Theatre Group - Delhi (Dr. Ashish Ghosh), Big one Little one Theater Group - Australia (Bernard O'nell), Flame University of Arts - India – Pune, Makassar Muhammadiyah University – Indonesia, Imran Khan - Delhi (Secretary General of the ASSETEJ India) and Pro. Vidyanidhee Vanarase - Pune (Dean- Flame University).
An international theatre festival has become a reality with the undying perseverance of Safeer and his team of drama lovers. Safeer is however sad about the lack of facilities and support by relevant authorities.
"There are eight international drama festivals in India each year, two in Pakistan and Bangladesh and even one in Nepal. It is pathetic Sri Lanka with comparatively good theatre history is having no international theatre festival," Safeer said.
However Safeer with the support of his international partners is determined to go ahead with his dream to introduce a theatre festival to Sri Lanka. The international theatre festival held with the aim of introducing contemporary world theatre to Sri Lanka is non-competitive and it aims to give a refreshing experience to Sri Lankan theatre lovers. All the foreign theatre groups have played an equally supportive role by flying to the country with their own expenses.