The Makuloluwe Walauwa, where William Bandara Makuloluwe was born and brought up, is located in a lush green valley in the Kanda Udarata hills. In and around these verdant sloping hillocks were the homes of those traditional Uda Rata artistes and craftspersons from whom William Bandara was inspired to study the vast culture of dancing and music of the Kanada Udarata hills, and enrich this national wealth to bring it to international heights.
'When the moon was on the rice fields and the sun was dropping slow', to borrow from Rudyard Kipling, the beat of the drum giving life to one of the 18 vannamas, would be heard from a home of a traditionalist, to which a response would be given from another veteran, from the opposite bank of the valley, creating a musical dialogue. On Poya days, when the temple-drums render a fine mix with the 'horanewa' , the daula and thammattama being played, to the chanting of the Gathas, and the Sadhu- Sadhu repeats of the pious, there was a heavenly atmosphere in this idyllic village.
These national inheritances heralded the rural Kanda Uda Rata where the historic arts were preserved. The village Makuloluwe was one such repository of arts situated close to the Dalada Maligawa; in fact there were families who did the religious duties, the 'Thewawa' in the Temple of the Tooth. It is in these traditional value-laden salubrious climes that William Bandara was born on February 17, 1922.
National heroes
It was these nationalistic village heroes who revolted against British rule in the 1818 Rebellion with Keppitipola Nilame, and also in the 1848 uprising with Gongalegoda Banda, which resulted in their losing their lands and properties, and being branded as persons against the British Crown. More than personal losses sustained, the traditional culture of these regions lost its state patronage, for years. The musicians and the dancers, and craftspeople, had to earn a living with the donations in kind given to them for performances.
Makuloluwe as a young lad realized this historical injustice perpetrated on them as a group, and also the detereoration of the rich cultural heritage. There were some like music and dance specialist, Kapukotuwe who worked towards this 'cultural revival'. But what was lacking was the correct leadership at efforts for revival, which Makuloluwe had and utilized to the optimum.
Makuloluwe was one of my cousins although, he was senior in age. The visits to the idyllic environs of Makuloluwe from Matale and meeting the Makuloluwe relatives at family gatherings, in the 1950s, was an awe-inspiring experience for me as a child of nine years. We were schoolgoing children when Makuloluwe was the Inspector of Schools in Music, the highest post in that discipline, in the Ministry of Education. I still treasure a personal reminiscence when I was a pupil at the Akuramboda Central College, and Makuloluwe, the Inspector of Music visited this rural school on circuit. Our dancing master Mr. Sarangedara, for whom I had great respect, knew that I was a relative but that Makololuwe did not know about my being a pupil in that school. Mr Sarangedara made it a point to tell Makuloluwe that I was not interested in dancing for whatever reason. My cousin came to know that I was a pupil in that school and that I was still struggling to learn the basics of 'Dandiye Saramba Dolosa ', for months.
He called me to a side and spoke to me about the family links first, and said that dancing would be an important subject in the curriculum in the future and that it is a tribute to our family if I could excel in music and dancing and obtain successes, and certificates, in addition to what I was to specialize in. He said he was setting the trend for Dancing and Music to be treated on par with other so-called important subjects. As a mark of gratitude to him I should place on record that his mission was accomplished during his lifetime.
That weekend when I came home from hostel, I related my encounter with this great man to my father, who was a teacher himself, who fully endorsed what he said. He showed me a paper-cutting that he had preserved, of a press report of Makuloluwe's return to Sri Lanka, from Shantiniketan with his Indian bride, Indira Khalia, in 1950. She is more knowledgeable in Sinhala and Buddhist culture than us now and proud to say that she is Sri Lankan.
Sri Palee
I came to learn only later, that he was invited from Shantiniketan to Sri Palee by no less a person than the late Wilmot A Perera, the eminent educationist, aesthete and nationalist, personally, by meeting Rachindranath Tagore in Calcutta. Makuloluwe's parents passed away when he was schooling and his elder brother K.B.Makuloluwe who was a headmaster living and teaching in Induruwa, married to a teacher from the Induruwa Walauwa, helped him in his education.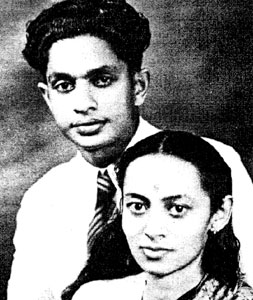 Makuloluwe returned to Sri Lanka in 1950 with his Indian bride Indira Khalia
Attending the village school at Idamegama Makuloluwe's interests were mainly in aesthetics; he was taught vocal music by Guru G.D. Malagammana; young William Bandara learnt music and dancing under Guru- traditionalists, Niththawela Gunaya, and Rangama Gunamala. The school sent him to competitions in music and dancing and he won many prizes and trophies. The brother admitted him to Rahula College Katugastota, where he found the right environment to develop his talents.
The Principal of Rahula College Arlin Perera identified Makuloluwe's capabilities and sent him for further education on music and dancing to P.B. Ilangasinhe, music teacher at Dharmaraja College, with his newly-won prize violin.
Later he was sent to Ananda College, in 1941, where he did the London Matriculation, but his love was music, which led him to make acquaintance with musicologists and the traditional dancing fraternity. Among the many awards he won was the 1937 Prof. G.P. Malalasekara Foundation Gold Medal for Up- country dancing and Silver Medal for Folk music. Under the guidance of his Principal Arlin Perera he joined Rahula College as an English teacher, still pursuing his studies in musicology. It is said that he, on his own accord left for Shanthiniketan in 1944, in spite of financial constraints, to achieve his goal of serving the cause of indigenous art forms which was his passion. I have heard of the train journey, he undertook, hazardous to say the least, without sometimes even seating.
Life in Shantiniketan:-
In Shantiniketan, he excelled in the dance forms Manipuri, and Kathakali, and music in Esraj, Sithar, while specializing in traditional vocal and instrumental. He returned to Sri Lanka, in 1948, after gaining his degree and diploma. He received three appointments on the same day, ie, as Assistant Lecturer at Shantiniketan, Lecturer at Katukurunda Training College in Music and Instructor of Dancing and Music at Ananda College; Makuloluwe chose the first option. Leaving the island in 1948, once again he served his alma mater with dedication.
When in 1950 Mr. Wilmot A Perera invited him through the then Principal, son of Gurudev Rabindranath, Rachindranath to accept the position of lecturer in the Sri Lankan model of Shantiniketan, Sri Palee, (foundation stone laid, on 20th May 1934, by Gurudev Tagore himself), Makuloluwe, had no option. According to his sister, he broke this news to Indira with mixed feelings and asked what she would want to do. She had said that she too would come to Sri Lanka with him, perhaps, a brave decision for an Indian girl from a Punjabi upper-caste, well-to do conservative family.
Return to Sri Lanka
Both returned after their marriage on December 13,1950, at Shantiniketan, and stepped on Sri Lankan shores on January 15, for a new life destined for them in the service of Sri Lankan culture. While Makuloluwe did research and teaching in aesthetics arts, Indira taught English, initially, and later her own speciality, art and painting. Their two daughters were born at Sri Palee, and later Indira gave up full time teaching to look after them.
The son was born in Colombo, and all of them now follow the footsteps of their parents, in the fields of culture and education; the two daughters are senior teachers and the son a television professional.
Revival of traditional music and dance
Makuloluwe laid the foundations to build the edifice of Traditional National Dancing and Traditional Music from Sri Palee. He laid the foundation for Sinhala Opera and Ballet by producing Kusa-Pabavathi, and Savitri, for the annual Sri Palee Mela. He was invited to the Radio Ceylon for regular folk music and folk dancing programmes, which he himself was interested in popularizing by Directors, Mahesh Sinnaiah, and Sadananda Pattiarachchi. These classical interludes became very popular among listeners.
Chief of Music in Ministry of Education
While keeping his links with Sri Palee he was searching for wider avenues to render his expertise to the national culture, when musicologist Lionel Edirisinghe requested him to accept the post of Chief Inspector of Music, in the Ministry of Education, which he was relinquishing to become the Head of the School of Fine Arts, Heywood, which was a part of the Technical College, Maradana, until 1953. Makuloluwe was appointed to this prestigious position in 1953. The pioneering role he played in the formation of a curriculum for musicology and dancing in schools, recruitment of dancing and music teachers, training them to push through these new curricula, producing ballets and opera with their devotion, promoting the Sri Lankan identity in these aesthetic sciences, and eventually, demonstrating that Sri Lanka has an indigenous culture of which all Sri Lankans should be proud of, without blindly imitating other traditions is now recognised. He did it in style with his higher exposures to eminent educationists, and his links with policy makers.
The Makuloluwe we knew possessed high values, sophisticated culturally, with substance, skills and had a respected leadership style, which many in this field lack even today. He was a proud man who did not waver in correct decision making. He was shifted to Giragama Guru Vidyalaya as Principal from Director, Aesthetic Education but the authorities had to bring him back when they found that there was none competent enough to organize the Music Pageant for the 1976 Non-Aligned Conference. He refused to accept the post of Director, Aesthetic Education at the Ministry which he left from, and a post of Director, Cultural Affairs was created to bring him back to Colombo.
He produced the Esa Disi Mihira, by the State Dance Ensemble, which was also one of his creations. The Conference of Non-Aligned States 1976, which more than 70 Heads of State attended, was held at the BMICH. Many were all praise for this magnificent purely Sri Lankan cultural pageant, and there were invitations for it to be staged in their countries, which were accepted by Sri Lanka.
In fact, the stage by stage development of the organizational structure of music and dancing of Sri Lanka, by Makuloluwe, while heading the Department in the Ministry of Education, contributed to the birth of indigenous musicology and dancing. He organized the teachers in the department to form the Teachers' Music and Dance Ensemble, which created and produced many a stage play, ballet, and opera; some of which are 'Goyam da Magula, Mahabinishkramanaya, Mara Parajaya, Sira Geyin Marumuwata and Hela Mihira, during the period 1953-1964.
The significance of these lay in the development of the talents of the teachers and pupils. They were assessed at annual competitions, at circuit, district, provincial, and national level, thus producing competent persons in these disciplines, to come to the fore. Some of those at the helm today in these fields are undoubtedly, the persons who went through these studies, competitions and further education. He introduced folk music and poetry to the educational curriculum to make Sri Lankans, for generations proud of their heritage.
I have personally enjoyed Makuloluwe's creations, especially his trained drummers of the magul bera, thammattama and daula. Nostalgic remembrances of drums of my own rural village temple come to my mind when I see these performances; Makuloluwe has brought them so close to speak to the hearts of the audiences. Those were the heights that he took our folk music and dance that foreign musicologists invited them to their countries.
Creator and organizer
When, the BMICH construction was completed and the Chinese technicians were leaving there was a farewell. Makuloluwe was entrusted the production of a musical pageant to mark the occasion on February 24, 1973 and he staged the performance, 'Pahanin Pahana', at the BMICH, depicting the resurgence of our dormant culture, with independence and after we became a republic. It enthralled the audience. The Chinese Ambassador himself was present with Prime Minister Mrs. Bandaranaike. Makuloluwe was requested by the Prime Minister, to do a performance for the official inauguration, by Chinese Prime Minister Chou –en-Lai, scheduled for May 18, 1973. Once again,the Pahanin Pahana with additional items, was staged as requested and it was acclaimed as a superb show, internationally. Perhaps, there were political elements, even at that time, who were jealous of this national asset reaching such heights. They shifted him to the Giragama Training College as Principal, as stated earlier.
1976 came and the worth of the man was felt in the power centres in Colombo, when Sri Lanka was to host the Non-Aligned Conference. He was brought back as Director Cultural Affairs; at every stage his rivals were further annoyed, and this time he created his 'Esa Disi Mihira, which captured the attention of Heads of State, attending. His musical, Depano, which was a collection of his artistic creations. It would be ideal if an Arts Archives is established by the Cultural Ministry, where these historic productions could be preserved, of course, along with the artistic memorabilia of all Sri Lankan aesthetes.
One striking feature in Makuloluwe productions was that although he was trained in Indian traditional music and dancing, what emanated from his creations was the fragrance of Sri Lankan traditional folk music and dancing; he wanted Sri Lankans to learn Indian ragas and Hindustani music with the advanced dance forms, but he insisted that there is equally a rich Sri Lankan tradition which could be enriched with knowledge imbibed from Hindustani, and other music traditions. He did not advise our musicians to be slaves to any of them let alone Hindustani. His pupils were nationalistic in attitude and they serve in all parts of the island today.
Even if one was not a direct pupil the new ethos caught up with dramatists and musicians. Some examples quoted were Chandrasena Dassanayake's Andi Tikai Ambalamai, Sunil Sriyananda's, Ehema Unath Mudalithuma, Lionel Ranwala's, Nogiya Gamana, and Eka Gediyayi Palagaththe, and Rohana Beddage's, Alakalanchiya. They were mostly, musical stage plays which won places at national level at competitions, the brain-child of Makuloluwe. His contribution should be assessed based on his personality, which was a unique mixture of a musicologist, dancer, educationist, teacher and nationalist all blended into one.
Commonwealth Institute in London
He visited a number of countries with his music and dancing troupe and one memorable contribution was his representation of these arts, at the Sri Lankan Festival, in 1982, held at the Commonwealth Institute in London which continued for two months. It was a proposition made by late Ranasinghe Premadasa, who was the then Prime Minister. The then Director of the Commonwealth Institute, Mr. Porter liaised the vast project with the Sri Lanka High Commission; there were a cross-section of artifacts, archeological, historical, business-related, and tourist related shipped to London, for the Festival and most of them were originals from the National Museum. The Prime Minister's idea was to show the world our cultural heritage, and there was opposition from certain quarters, to taking these original artifacts abroad, and some were not taken as a result. A replica of the reclining Polonnaruwa Buddha was made with fibreglass and it adorned the frontage of the Institute of Kensington High Street; this was tremendous publicity for the country.
It was inaugurated by Queen Elizabeth 11, and the entire welcome ceremony was under Makuloluwe, his dance and music ensemble along with children trained by him drawn and selected by him from among Sri Lankan children living in Britain who volunteered for the purpose. President Premadasa and six Sri Lankan cabinet ministers also attended the opening of the Festival by the Queen, and the media, both electronic and press, were full of praise for Makololuwe's organizational abilities and music and dance performances. I personally felt proud of my cousin to say the least. The musical shows were also staged for audiences who visited the Festival.
Makuloluwe returned to Sri Lanka, and continued his aesthetic research and creations as Director Cultural Affairs. I met him several times after I returned from my tour of duty in London. Once he told me while one of his musicals was being staged at the Lionel Wendt that his days are numbered, and I did not understand what he meant. I came to know that he was fighting a chronic illness. But I never dreamt in my wildest dreams that he would leave us so soon. He passed away on September 8, 1984, leaving a void that will never be filled.
(The writer is secretary to the LLRC and a former Ambassador)