Sri Lankan beauty queen and Bollywood star, Jacqueline Fernandez was back in the island to launch the Colombo Jewellery Stores latest collection. Celebrating 90 years, the jewellery store themed the collection on the 20's and Jacqueline dressing aptly looked stunning in a 20's designed gown and elaborately styled hair.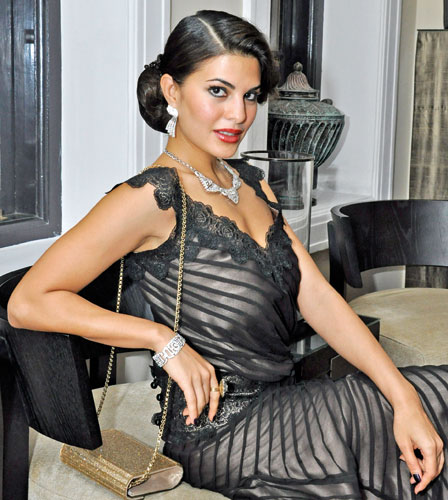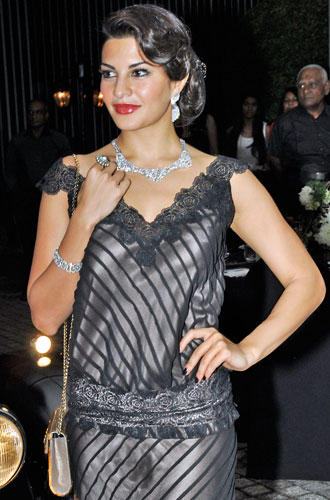 Stepping out in style: Jacqueline at the launch of the Colombo Jewellery Stores latest collection. Pix by Susantha Liyanawatte
Releasing three movies this year, Jacqueline has been quite busy in Mumbai. She'll be performing alongside some of Bollywood's biggest stars such as Saif Ali Khan and John Abraham in Race 2 which is set to be released in November. The Sri Lankan beauty queen will also be playing the role of Sanjana in Raaz 3D directed by Vikram Bhatt and pitched to be released in August.
"This year I hope to concentrate on my career in cinema. Cinema is something I've wanted to do since I was younger and I know I have what it takes to be an actress," says Jacqueline describing how cinema is a longterm career path she hopes to pursue.
Having won the International Indian Film Academy Award for Best Debut and the Stardust Award for Exciting New Face in 2010 for her co-starring role as Jasmine in Aladin Jaqueline is certainly making waves in Bollywood.
Speaking about her rise to fame in India in just two years, Jacqueline says, "I'm very lucky to have made it this far while competing against some of the most famous actresses who are experienced and well versed. I certainly consider myself lucky." She says learning Hindi was her biggest challenge when she got to Mumbai and trying to make her career in the Indian movie industry. "I didn't even know how to direct a rickshaw to my home. It wasn't easy but I've managed." Prolifically making movies, she's picked up the language fast.
While she's busy in Bollywood, Jaqueline says she is very interested in making movies in Sri Lanka. "I'd like act in Sri Lankan movies and promote the industry. Sri Lankan cinema has a lot of potential but it also needs a lot of support as well." She shares that she has been approached with roles in Sri Lankan films but she's being selective, adding "the script really matters to me".
Popping down to Sri Lanka for the unveiling of Colombo Jewellery Stores latest collection, Jaqueline is thrilled with the intricate vintage themed pieces. Personally designed by the store's third generation CEO Akram Casim, who based his designs on trends at the time his grandfather established the jewellery store, Jaqueline says she's proud to endorse Colombo Jewellery Stores as it's the best for quality jewellery that is more than just an accessory.