In 1875, one of England's most respected Victorian novelists, former Post Office employee Anthony Trollope, made his second journey to Australia to help his son wrap up his failed farming business. On the way his ship docked at Galle, and Trollope took the opportunity to make a limited tour of the island especially to visit Governor Sir William Gregory (1872-1877), whom he had befriended at Harrow School.
Trollope had written a travel book on his first trip to the Antipodes called, rather lamely, Australia and New Zealand (1873). As Victoria Glendenning remarks in her biography Trollope (1992), "Not even Anthony could sell a second book about Australia; but he had arranged with Nicholas Trubner [literary agent and publisher] to send back a series of twenty 'letters', i.e. articles, about 36,000 words in all, which Trubner sold on to the Liverpool Mercury and other provincial newspapers, paying Anthony £15 a letter, which was not generous."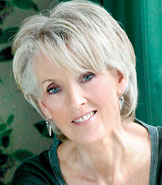 Joanna: Anthony Trollope's
fifth generation niece. Pic courtesy Barker Evans
These letters, four of which concern Ceylon, bore Trollope's signature and appeared on page five of the Liverpool Mercury every Saturday from July 3, 1875, to November 13, 1875. Although the Liverpool Mercury was an important provincial newspaper it had only a small circulation outside England. Fortunately, however, the letters were made more accessible in a volume titled The Tireless Traveler: Twenty Letters to the Liverpool Mercury, 1875 (Berkeley: University of California Press, 1941 & 1978).
One hundred and thirty-five years after Anthony Trollope's visit, his fifth generation niece, Joanna, also a highly-acclaimed novelist, is about to follow her ancestor to Galle as a participant in the HSBC Galle Literary Festival 2012. If that isn't coincidence enough, Anthony Trollope stayed at the Oriental Hotel while he was in Galle, which has now been transformed into Amangalla and is an integral GLF location.
I don't know whether Joanna Trollope will stay at the boutique hotel, but certainly she will visit it as it is the setting of her literary lunch on Friday, January 20. According to the GLF programme, "she will speak about the experience of being on and chairing the juries of literary prizes as she anticipates being both the chair of the 2012 Orange Prize and the 2012 Sunday Times EFG Bank Short Story Award". She anticipates no longer, for her website announces that she has been confirmed as the chair for the former and joins Melvyn Bragg (surely a candidate for a future GLF, Mr. Selvadurai?) and Edna O'Brien (a past GLF participant), among others, as a judge for the latter.
I shall be concentrating on Anthony Trollope's interaction with Galle, rather than his other destinations, Colombo, Kandy, Dimbula and Nuwara Eliya. It was in Nuwara Eliya that he met Governor Sir William Gregory, stayed in luxury at Queen's Cottage (now President's House), and witnessed the April holiday (then a colonial event before it became localized) that included cricket, football, racing and hunting in "a regular little England". However, in Trollope: Interviews and Recollections (1987), editor R.C. Terry notes that the author "found the colonial protocol in Ceylon hampering and joyless. He wrote to [Sir John Everett] Millais [the painter] of Governor Sir William Gregory, 'He can admit no equals, and lives in a sort of petty bastard (ok?) vice royalty, which would kill me.'"
Trollope was one of the most travelled men of his generation, and even today he would be considered remarkable for the extensive nature of his journeys. (His mother, Frances Trollope, was also among the many well-known literary travellers of the nineteenth century.) The Spectator wrote of him in 1873 that he wanted to be a "greater traveller than Marco Polo". In connection with the Post Office he visited Egypt, Malta, Gibraltar, Spain, the West Indies and Central America. Privately, Trollope visited America four times, in 1859, 1861, 1872 and 1975, Australia and New Zealand twice, in 1871-2 and in 1875, and South Africa in 1877.
Wherever he went he wrote, not just descriptively but with an inquiring mind. Bradford Allen Booth, responsible for the Introduction to The Tireless Traveler, remarks: "For the social historian [the letters] preserve faithfully and in minutest detail a picture of Ceylon and Australia in transition.
For the economist they describe, in a concrete manner that is denied mere statistical surveys, under what circumstances of poverty and prosperity British colonists actually lived . . . One could count on Trollope's knowing the value of a sack of potatoes or a hogshead of wine in every port in the world."
"Trollope was a student of society and of British colonial policy. He saw the colonies chiefly as a new home for the laboring classes. One is impressed by the heartiness with which he commends the new spirit of independence which the common workingman, freed from class distinctions, enjoys.
It is not too much to say that Trollope visited the various British colonies in search of a place where economic inequalities and social injustices might be alleviated, and he was not to be deterred from his purpose."
"Trollope's travel books are unique. They have none of the rich romanticism of Borrow, the robust geniality of Stevenson, the provincial prankishness of Mark Twain, the bitter irony of Cunninghame Graham, the saucy wit of Evelyn Waugh. They violate almost every convention of the genre.""He was in many ways a tabloid tourist, an Innocent Abroad, his own 'Tourist in Search of Knowledge', who is 'no great frequenter of galleries, preferring the useful to the ornamental in his inquiries.'"
Letter III, which Bradford Allen Booth describes as "lively and charming, full of amusing observations on the oddities of foreign deportment", is the one that concerns us. It begins: "All the world knows that the island of Ceylon is entered from Europe, and, indeed, as far as its British owners are concerned, from India and the East also, at Point de Galle, the harbour there being at the extreme south of the island, and in the direct course from Suez to Calcutta, China, and Australia."
Trollope then proceeded to note that a breakwater was being constructed at Colombo and that Galle's glory was likely to end abruptly. "In the meantime, all Eastern travellers visit Galle. It is a place in which you have all your clothes washed in six hours as you go out to China, very much to your gratification; where you buy tortoiseshell and false sapphires, and make your first personal acquaintance with rupees.
"Portions of Ceylon have long had a reputation for rubies and sapphires, and you find that you have just arrived in the nick of time. A handsome commercial gentleman in a turban and petticoats [a Moor] unrolls for you from his bosom his pet treasure, his one really magnificent sapphire ring, and with true Oriental candour imparts to you the secret that troubles have come upon him.
He wants money on that very day, and will therefore let you have his one treasure for any trifle of money, say £70! He tells you that you, being a man of the world, are of course aware that it is worth at least double that. You have not £70 for the gem, and then he comes down rapidly to £60, £40, £20, £10, £5; and at last he clings to you, in his despair, demanding what you will give him. You, in your despair at his persistency, offer him three half-crowns. He clutches greedily at your silver, lest you should repent, and then glides off in triumph, leaving in your hands the bit of glass set in brass. In his way he is a good industrious man, and is earning his bread to the best of his ability in the vocation to which he has been bred."
Of the Sinhalese Trollope comments: "They are much given to agriculture, and are landowners—sometimes to the extent of a quarter of a cocoanut tree each. In the towns they condescend to wait upon their European conquerors. Very good servants they are, creeping about with noiseless tread, and understanding perfectly what you want of them, even when you do not speak their language or they yours."
"At Galle the British lord will also make himself conspicuous. At Galle he will probably be living in Oriental luxury on a salary. He will be the master of the port, or the agent for the province, or the resident clergyman, or the officer in the receipt of customs. Perhaps the representative of the great Peninsular and Oriental Company will receive you with open arms, which means immediate brandy and soda-water and a dinner a little later on; and, till the musquitoes [sic] have found you out, you will think that no life can be more delightful than that at Galle, with white jacket and white trousers, and ever so many rupees a month."
Trollope comments that if Galle should lose its prominence as a port, "The white trousers and the white jackets and the good dinners and the soda and brandy will all migrate, and the collector of customs will no longer complain, as he did in my case, because he is called upon to sign his name on a holiday".
"My sympathy [in the event of Galle's demise] will chiefly be bestowed upon the keeper of the Oriental Hotel, a hotel which I found to be exceptionally good and clean, and one in which the host or hostess—probably both—thoroughly understands the elements of a good dinner in the tropics. In these distant regions a good dinner is not supplied at a very cheap rate; but then neither are the elements cheaply procured."
Trollope's next destination was Colombo. He ruminated taking the steamer called the Serendib that circumnavigated the island "which is, I am told, very comfortable", but as it would entail a long wait before the ship docked at Galle, he decided to take the common mode of transport, the royal mail coach. Joanna Trollope will be travelling in the opposite direction, and probably not along the coast but the Southern Expressway.
Anthony Trollope was among several major novelists to visit Ceylon who didn't use the experience to write a fictional tale with the island as a backdrop. In his case it was hardly surprising since he was largely Barsetshire-orientated. As for D.H. Lawrence, he just didn't like Ceylon. But Herman Hesse, being immersed in Eastern philosophy, might have created another classic such as Siddhartha.