Sri Lanka's legendary film industry couple have joined hands with Asia Digital Entertainment to bring out what promises to be a different genre for them- a fantasy movie shot with digital technology. The chairman and management of Asia Digital Entertainment formally commenced the cinematic production, Vaishnavee, at a special muhurath ceremony held earlier this week.
Directed by Sumitra Peries and based on a story by Dr. Lester James Peries, Vaishnavee takes its name from the goddess Vaishnavee. This Sinhala movie which is suitable for all ages follows a story of a puppet which comes to life.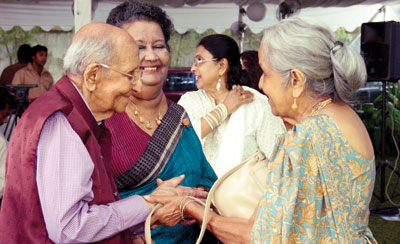 Evergreens: Lester and Sumitra Peries with Iranganie Serasinghe and guests and stars at the event. Pix by Indika Handuwala
"We are lucky we came across Manohan Nanayakara to produce our film," said Sumitra adding that she is looking forward to venturing out with new technology. Vaishnavee will be shot in Colombo and its suburbs, and post-production will all be done in Sri Lanka making it the first ever movie of its kind to be entirely produced in Sri Lanka. Asia Digital Entertainment expects the film to be completed in March and forecasts a healthy reception.
Award-winning actress Yashoda Wimaladharma will play the lead role, with other well-known actors and actresses in its cast including newcomer Shehara Hawadewa. One of Sri Lanka's most experienced and acclaimed cinematographers, Donald Karunarathne, will be the director of photography.
The film will be shot with the use of the world's most advanced digital camera, the Red Epic. This camera was used in many foreign movies like the Pirates of the Carribean, The Hobbit, Angels and Demons and The Girl with the Dragon Tattoo.
Asia Digital Entertainment has trained cinematographer Vishwa Balasuriya, at the RED studios in Hollywood to operate the Red Epic.