Soft-spoken Buddhist scholar Dr. Lance Cousins from Britain had just returned after conducting a meditation retreat in Kandy when I met him at the Narada Centre at Sarana Mawatha. He was in the company of Venerable Mettavihari who had organised the retreat which was attended by a keen set of nearly 30 meditators including nine monks and two nuns.
"It was interesting," was his comment. It was the first time that Buddhist monks and nuns had attended a retreat conducted by him. He found it to be "something new and different" and it "seemed to be useful to them." He enjoyed the weather in Kandy. The retreat was held at the Rathnasiri Wickremanayake National Training Centre at Hantane managed by the Tea Smallholdings Development Authority.
This is Dr. Cousins' fifth visit to Sri Lanka. His earlier visits were mainly to do research on Buddhism in Sri Lanka. He had spent some time at Peradeniya. "The first time I came I spent three months.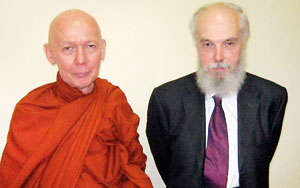 Venerable Mettavihari and Dr. Cousins
I remember staying at the Ramanathan Hall not as a student but with the warden whom I knew," he reminisced. "I stayed outside the campus with friends during the second visit - also for three months. I had met them in UK." Among his friends is Dr. P. D. Premasiri, Professor Emeritus – Pali and Buddhist Studies, University of Peradeniya who had been his contemporary at Cambridge University during undergraduate days.
Dr. Cousins had also participated in meditation retreats at Kalugala aranyaya at Matugama, a couple of times. Others had been short visits either on invitation to deliver a talk or returning from a visit to an Asian country. He was invited to speak at the Venerable Hammalawa Saddhatissa memorial meeting held at the BMICH about five years back. "I knew Venerable Saddhatissa quite closely when he was the head of London Buddhist Vihara at Knightsbridge. In fact, that was the only Sri Lanka temple in UK at the time," he recalled. "He was the first Buddhist monk I met."
He was not quite keen to come during the days of the North-East conflict. "Things are different now. This time I saw soldiers looking bored. It wasn't so then," he said in lighter vein.
One time lecturer in the Manchester University's Department of Comparative Religion started by Rhys Davids – founder of the Pali Text Society, he taught Buddhism there for 25 years before taking early retirement and moving over to Oxford University. Presently, he is a member of the Theology Faculty teaching Pali and Prakrit. Incidentally, he is a Fellow of Wolfson College at Oxford.
He served a term (2002/3) as President of the Pali Text Society. I asked him how and why he got interested in Buddhism. "It's hard to explain why," he said. "I used to read about different religions and among the books I read was the little book on Buddhism by Christmas Humphreys. When I got into Cambridge there was a Buddhist Society. I joined it and continued my interest in Buddhism."
Although there is a "massive interest" in Buddhism in Britain now, he does not think that there are large numbers of undergraduates keen on Buddhism. "A small number of students show an interest but not a great lot. In fact they are not keen on any type of religion."
He remembers the days in the early 1960s when there were not more than ten Buddhist societies in the whole of UK. There was just one in London – the London Buddhist Society. "Today there are hundreds if not thousands. A booklet is published with the addresses."
Several forms of Buddhism from Theravada to Zen are practised. As for Theravada Buddhism, it's mainly the forest tradition from Thailand that is most practised. One of the most popular monasteries is the one at Amaravati headed by the well known monk, Ajahn Sumedho.
Dr. Cousins founded the Samatha Trust which has a national centre in Wales, a converted farmhouse with individual accommodation, forest meditation huts and a purpose built shrine hall. Regular meditation courses are held both for beginners as well as experienced meditators in a rural setting covering more than 80 acres. In its website www.samatha.org the introductory paragraph states: "Samatha means calm. Samatha meditation is an effective but gentle way of training the mind to develop inner strength and freedom from turmoil, leading on to clarity and understanding. This path from calm to insight was followed by the Buddha himself, and is a central tradition of Buddhist meditation. There are many kinds of Samatha meditation techniques: this one is based on attention to the breath, a subject which is said to be suitable for all types of people."
The Centre celebrates its 25th anniversary this year. In addition to the meditation retreat, Dr Cousins delivered two talks during his two-week stay in Sri Lanka. One was arranged by the Royal Asiatic Society and the other by the Colombo University's Buddhist Studies Department. Both were well attended.