A few years ago when on a tiger safari in the Sundarbans I met some high court lawyers from Chennai. I asked Mrs S. about Tamil Nadu's fabled temples. For two days she dilated upon the nuanced intricacies of the various and wondrous prasadam served at different temples across the state.
Here was enticement. When some friends from England went to Chennai for three days and stayed three months to eat dosas, I thought I too had better embark upon Tamil Nadu. I discovered that Tamil Nadu has more temples than all of Italy has churches (how the Italians go on about their churches!). And prasadam doled by temples is especially delicious (and generous) around Pongal.
Indeed, it's the prasadam that draws the pilgrim. For it's precisely when long chants terminate, just in time for prasadam, that a crowd boils around the shrine. Pilgrims quickly sit and are dispensed woven leaf plates upon which is heaped pongal, lentils, vadais, tamarind rice…. An old lady beams as she explains, "I travelled a half-hour to come for this prasadam," eagerly directing me to other temples (Chennai's Mylapore) with equally excellent prasadam… And why not, for this prasadam, simple, unspiced Brahmin food though, is tastier than anything at the fanciest restaurants.
But Pongal is also the time to explore Tamil Nadu's UNESCO World Heritage Sites. Stratospheric structures that have survived over 1000 years.
The temples might be timeless but time between them is immense. Those given to comforts book the state-of-the-art house on wheels Star Craft with wood-panelling, leather interiors, elegant bedrooms, en-suite bathrooms, butler service, etc courtesy of multi-award winning Parveen Travels (winner of six National Tourism Awards and India's Best Travel Agent Award).
Significantly, Parveen Travels are the temple tour specialists and they have strong ties with Sri Lanka, which facilitates booking customised tours (Parveen Holidays, www.parveenholidays.com, Tel:+91950009563, E-mail:tours@parveenholidays.com).
Trail of Temples
Thanjavur: UNESCO World Heritage Site. The stupendous Brihadeswarar Temple, 1000-odd years old, built by the great Emperor Raja Raja Chola, embodies the grandeur of the Chola dynasty and their dedication to art and culture. This construct is the world's first complete granite temple and pre-eminent in Indian architecture. The sheer magnitude of the temple staggers: The 66m vimana is among earth's tallest, whilst the monolithic Nandi (sacred bull) at the entrance is monumentally 20ft long and 13ft high, weighing 25 tons (the second largest in India). The octagonal shikharam rests on a single granite block of 81 tons. Enormous Nandis grace the corners of the Shikharam. Myriad stucco figures encrust the vimanam.
The mammoth Mahalingam is set in a two-storied sculptured sanctum. Long pillared corridors abound in murals, 250 Shiva Lingams and Nandis. The 108 Bharata Natyam postures, manifestations of Shiva etc are depicted in sculptured panels or in exquisite Chola murals.
Another architectural feat is that no part of this expanse of stacked, carved intricacies casts a single shadow within the precincts. "Prasadam pilgrims" remember Thanjavur is perhaps the only Chola temple offering regular poojas and therefore prasadam…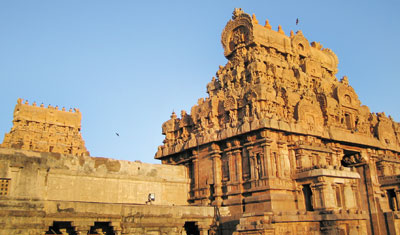 Thanjavur: Embodying the grandeur of the Chola dynasty
But don't miss the frescoed Thanjavur Palace with its Library complex that stocks miniatures, manuscripts, scrolls and perhaps the largest collection of Sanskrit texts in India. More astounding is the Bronze Gallery whose imposing statues in stone, delicate statues in bronze, and awe-striking arrayals of the dancing Nataraja can shame Greek and Roman sculpture.
Darasuram: Another UNESCO World Heritage Site. The Airavateshwarar Temple, a treasure trove of art and architecture built by Emperor Raja Raja Cholan II, has been called "the sculptor's dream in stone." A tremendous horse-drawn chariot immortalised in sculpted rock forms the front mandapa. The temple pulsates with wrought stone in carvings of extreme refinement that drape emphatic pillared enclaves. The beauty of the architecture and the sculptural finesse exemplify the skills of the Imperial Cholas.The art historian Fergusson said that the Chola artists conceived like giants and finished like jewellers.
Gangaikonda Cholapuram Temple: UNESCO World Heritage Site, it partakes of the Chola masterpieces. Commissioned by Emperor Rajendra Cholam, this temple is modelled on Thanjavur. The 4m Shiv Lingam is the largest in South India. Gangaikonda itself was the Chola capital for 250 years from which the Chola warriors controlled all South India and much of Sri Lanka's northern peninsula!
Kambahareshwarar Temple: UNESCO World Heritage Site (needless to say). Emperor Kullotunga Cholan's temple, fourth of the "Great Living Chola Temples," completes the quartet of pietistic Chola artistry. Terrific, the edifice's chariot mandapa with carved panels revives The Ramayana.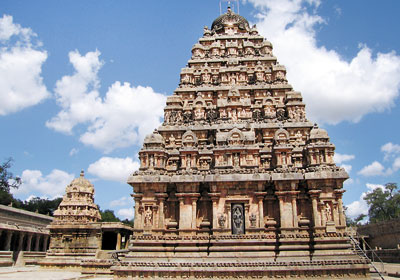 Darasuram: Called "the sculptor's dream in stone'
Mahabalipuram: 1200-year-old UNESCO World Heritage Site. It is thought seven magnificent temples, known as the seven pagodas, once laced the sea shore. Survives but this legendary Shore Temple comprising three temples including two Shiva temples. However, it is the Vishnu shrine that captivates with its sprawled statue of the reclining Vishnu. Built from dressed stone and garlanded in Nandis, the Shore Temple boasts painstakingly engraved granite bas reliefs, eminently one 100ft long and 45ft high
.The Mahabalipuram complex features mostly monolithic monuments hewn from the rock face, including cave and structural temples, rathas (chariots) and chiselled reliefs. Early Dravidian architecture, notable Buddhist design elements and subtle Pallava art interweave. Pyramidal monoliths fashioned into temple chariots are named after the Pandavas. Seek out the spectacular Arjuna's Penance, Descent of the Ganges, Varaha Caves Temples etc. Utter petrified poetry! Not all Tamil Nadu temples are UNESCO sites, but the following perhaps ought to be…
Srirangam Temple: Renowned for its endless courtyards and architectural splendour, including almost Moghul and Jain influences. Expect to queue an hour, at least, as this temple is the Tirupati of Tamil Nadu and brings multitudes of devotees from across India. Pass an enfilade of Thanjavur paintings en route to the main shrine crowned with a 90kg gold dome under which an immense Lord Vishnu rests in undisturbed glory.
Chidambaram: This temple with five courtyards and different style of architecture is unique for the bejewelled Nataraja (Lord Shiva as the Lord of Dance). It is amongst the few temples where Shiva is represented by an anthropomorphic murthi rather than the classic, anionic Lingam.
Kancheepuram: The Temple City is also where to silk-saree shop. But don't forget to visit the Vishnu temple with delightfully carved. courtyards overlooking massive water bodies.
Rameswaram: Less known for its architecture than for its significance in the Ramayana- Lord Rama is said to have worshipped Lord Shiva at this site before heading to Sri Lanka from Dhanushkodi which, with its blinding white sands and striking blue waters, is but 13 km from Lanka!
These were about the only temples I managed. When I met Mrs S. (the lawyer from Sundarbans) in Chennai, I mentioned I couldn't quite make a certain hilltop temple and enquired whether I'd missed much. She said solemnly, "Yes, their prasadam is unmissable!"
The writer is a freelance travel journalist who has contributed to international magazines and newspapers including Tatler, Conde Nast Traveller, Harper's Bazaar, Wallpaper, Elle, The Telegraph, The Evening Standard and The Independent.